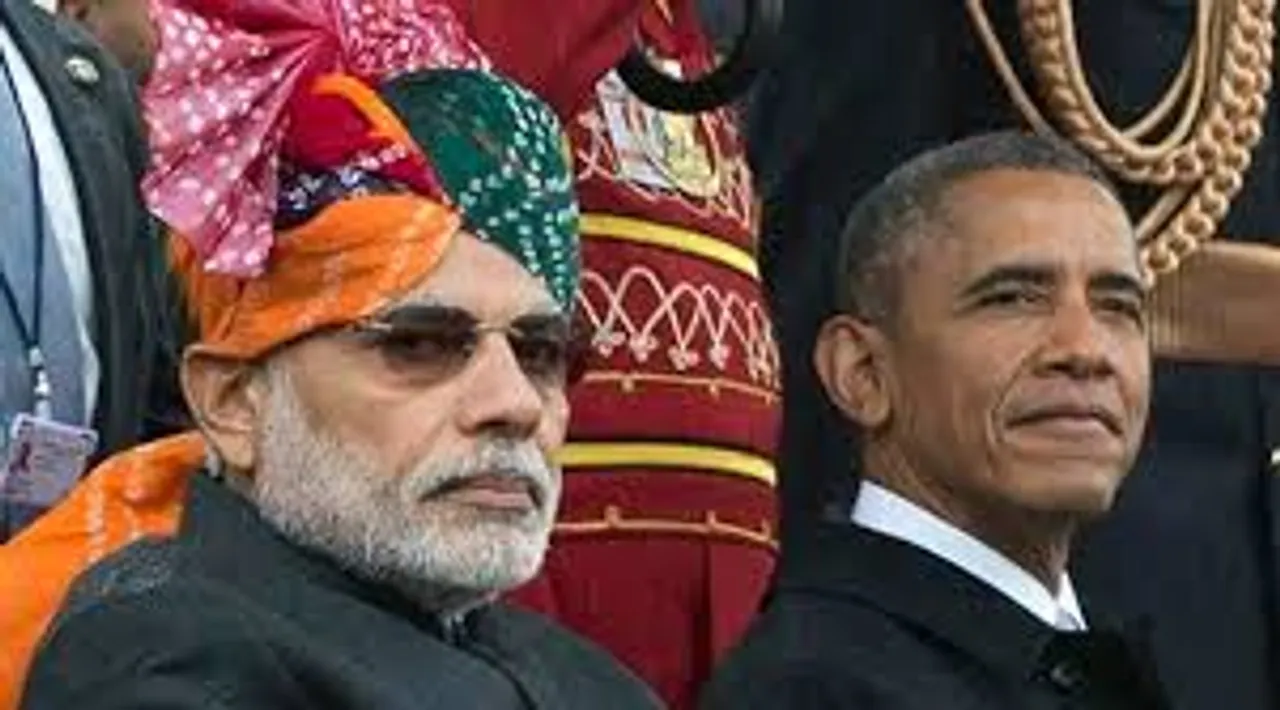 US president Barack Obama is visiting to India on Republic day. Obama accepted prime minister Narendra Modi's invite to be the chief guest at India's 66th Republic day ceremony on January 26.
Obama will be the first US president to witness the India's Republic day as a 'Guest of Honour'. This is going to be Obama's second visit to India. He visited India in 2010 at the invitation of former PM Manmohan Singh and had addressed a joint session of parliament.
Obama will meet PM and Indian officials to strengthen and expand the US-India strategic partnership and relation.
For the last several years, there have been countless meetings between New Delhi and Washington in search of the next big thing in US-India relations. These meetings can be seen as an effort by the US to create new global partnership with India.
A better measure of the Republic Day summit's agenda will be the areas of mutual talks that focus on US- India trade and investment, defence, economy, energy and counter-terrorism.
On the other hand channel partners across the country carries different point of views and expectations from US-India partnership and meets.
Speaking to The DQ Week Alok Gupta, CEO, Softmart India, Delhi, said, "India-US are natural allies. The US is investing in a long-term strategic partnership with India
to support its ability. Most of the IT softwares are manufuctured in US and get imported here. We people in India are selling there technology and this is how we create a long term relationship in terms of business and marketing. We have built up a global partnerhip through market-democratic values and core goal of achieving peace and security for all peoples in the region. India has invited Obama who will not attract the Republic Day ceremony but also will lead to close strategic relations. US has a powerful economy and the kind of relationship our government is maintaining with them underlines how close the two countries have become. This is surely going to help the Indian business and various sectors including IT. We always had a good connection with US and it seems to grow in future also."
Ketan B Shah, Managing director, Kruti Comp India, Bengaluru said, "With US-India relations, both countries can increase the convergence of interests on bilateral, regional and global issues. For our Indian market, I expect a lot of things from this growing relation. In terms of IT and for business sector, I am looking for lot of exchange of technology. This cooperation is now broad-based and multi-sectoral, and will increase in import and export."
Arvind Singh, CEO, Maxnet Computers, Mumbai commented, "Regular exchange of visits will have a positive impact on our economy. India-US relationship has enabled sustained momentum to bilateral cooperation and helped establish a long-term framework for India. There is a positive impact of this connection, not only on the business level but to the overall market sentiments. Global market will open up for the Indian market. Investors now will look at the whole scenario and would be able to consider our market also. NRIs and Indian business community could also get better support from the US goverment. This alliance has a great impact on our economy and business."