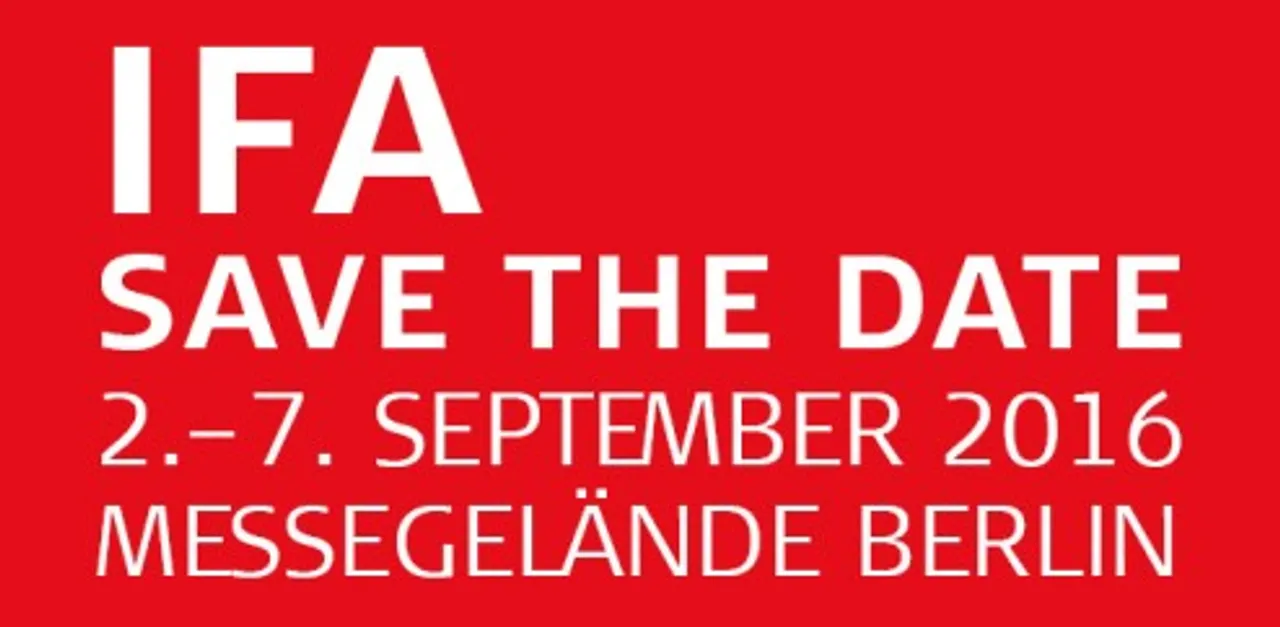 IFA is expanding. There is additional B2B trading venue in Berlin. CE China opening event at the IFA Global Press Conference.
2016/04/18
Hong Kong/Berlin, 18 April 2016
The world's leading trade show for consumer electronics and home appliances will be growing once more. For the first time at IFA 2016, there will be an IFA Global Markets section that will take place in parallel to the main event. It is aimed at trade visitors, thus providing buyers and sellers with a central trading centre. The 10,000 square meters of exhibition space brings together IFA's suppliers, component manufacturers, OEMs and ODMs and their potential customers and partners from the CE and HA sectors. Berlin
IFA is the world's leading trade show for consumer electronics and home appliances. It will take place from 2nd to 7th September 2016 at the Berlin Exhibition Grounds (Expo Center City).
The familiar IFA Trade Visitor Services will also be available at Station Berlin, including a complementary lunch for all trade visitors. Station Berlin is just 20 minutes from the exhibition grounds and can easily be reached via the IFA shuttle buses and local public transport connections. IFA Global Markets will only be open on four days, from the Sunday of IFA (4 September) through to Wednesday (6 September). The IFA trade visitor ticket includes entry to IFA Global Markets.
As a global IFA event, CE China is a welcome addition to Berlin's portfolio for the Chinese market and its opening event coincided with the annual IFA Global Press Conference (GPC), now in its tenth year. The IFA Global Press Conference will now take place outside of Europe for the first time – in Hong Kong and Shenzhen. More than 300 media representatives from more than 50 countries will be attending the IFA GPC 2016.
The trade show will take place from 20th to 22nd April at the Shenzhen Convention and Exhibition Center, where it is offering Chinese and global brand manufacturers the opportunity to present their latest products and services to consumers and distributors.
Key partners of CE China include the Shenzhen Municipal Government, top Chinese distributors such as Suning and Alibaba, and IDG – China's leading media group. Trade delegations from Europe, Japan and Korea, such as Rakuten, Hi-Mart, Euronics International and Expert International are supporting CE China and their representatives will be at the event.
"Successful markets thrive on innovation, and innovations have held the center stage at IFA Berlin for more than 90 years. This is because IFA is the ideal platform for all manufacturers of consumer and home electronics to present their latest products in the run-up to Christmas, the busiest time of the year when it comes to sales," explains Hans-Joachim Kamp, Chairman of the Supervisory Board at Philips Technologies GMBH and Philips Germany GMBH.
Jürgen Boyny, Global Director, Consumer Electronics, GFK Retail and Technology, explains the market developments: "A clear trend in 2016 is the rise of connected devices in the world of consumers. Assuming continued global growth in demand for smartphones of +7 %, one can anticipate video and audio devices, as well as large and small electrical appliances, to be connected to one another either directly or via the internet. This connectivity enables completely new and innovative applications, such as smart homes, health and fitness tracking, or mobile payments. Consumers are only just starting to discover the Internet of Things."
Dr. Christian Göke, CEO of Messe Berlin said, "At IFA 2016 for the very first time we will be opening up an additional exhibition space outside of the exhibition grounds. The concept of the IFA Global Markets space further underscores IFA's core focus, efficiently and successfully bringing together both industry and trade representatives.Industry trends
In time for the most important time of the year for sales, IFA offers a comprehensive overview of the latest innovations and world firsts: Screens for fascinating HDR images, movies for the new UHD Blu-ray discs, 3D sound, and unlimited music offerings from streaming portals. Goggles and cameras for virtual reality applications and superfast 3D scanners and printers are the latest growth markets. Smart networks offer security, comfort, time savings and energy efficiency. Sensors for sports and leisure and domestic appliances and tools to produce vitamin-rich and nutritious meals support people in maintaining fitness and a healthy lifestyle.
Further press releases that have been published at IFA Global Press Conference are here to find: http://bit.ly/1r95Dyc