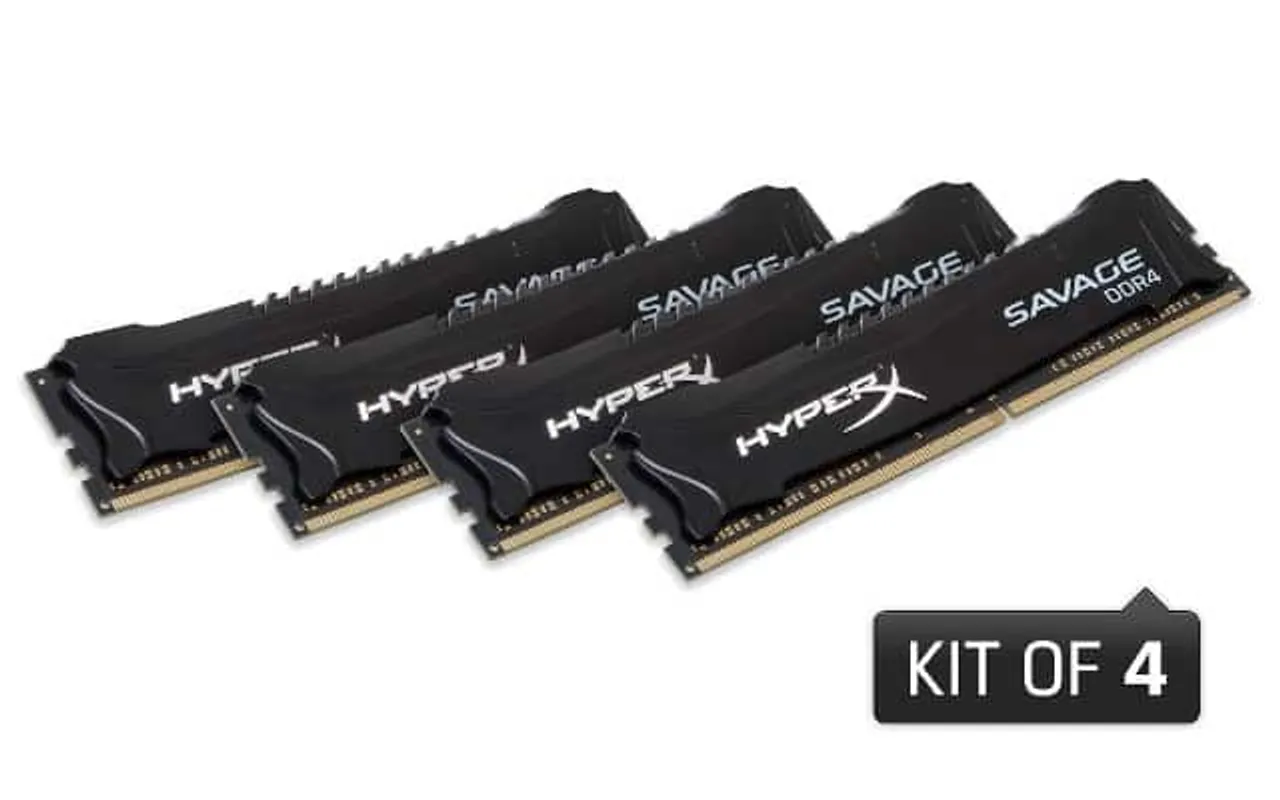 HyperX, a division of Kingston Technology, the independent world leader in memory products, today, announced the release of HyperX Savage DDR4 memory in India. It will be available in a range of capacity and frequency options, MRP for which would start at Rs. 3,850/-. With fast speeds and aggressive timings, the HyperX Savage DDR4 offers ultra-responsive multitasking and an overall faster system, making it perfect for advanced gamers, overclockers and power users.
With speeds up to 3000MHz HyperX Savage DDR4 allows for faster video editing, 3D rendering and gaming. The built in XMP ready profiles are optimized for Intel® Core i5 and i7 processors, as well Z170 on 100 Series and X99 chipsets enabling users to easily overclock just by selecting a memory profile without any adjustments in BIOS. Available in single modules and kits up to 64GB Savage DDR4 runs as low as 1.2V and at max 1.35V resulting in less power consumption than DDR3 and higher reliability.
"We are excited to present this new high speed, yet power efficient memory for those gamers and enthusiasts looking to maximize system performance," said Ann Bai, Sales Director, APAC Region, HyperX Division, Kingston. "HyperX Savage DDR4 offers consumers standout performance and with its asymmetrical die-cast aluminum, low-profile heat spreader and matching black PCB a standout look to upgrade any system."
HyperX Savage DDR4 is backed by a lifetime warranty, free technical support and legendary Kingston reliability.
HyperX is the high-performance product division of Kingston Technology encompassing high-speed DDR4 and DDR3 memory, SSDs, USB Flash drives, and gaming accessories. Targeted at gamers, overclockers and enthusiasts, HyperX is known throughout the world for quality, performance and innovation. HyperX is committed to eSports as it sponsors over 20 teams globally and is the main sponsor of Intel Extreme Masters. HyperX can be found at many shows including China Joy, PAX, Davao Cyber Expo, and TGS & Big Fest.