Telangana IT minister K T Rama Rao has vowed to make the Hyderabad city the ICT capital of India. Under its ambitious 'Make in Talangana' initiative, the government aspires to hike the investment in ICT up to $ 5 billion and generate one million employment opportunities in next 3-5 years.
Telangana government recently organised 'Make in Telangana' event in Mumbai to woo the BSFI sector. K T Rama Rao accompanied by Industries Minister Jupally Krishna Rao and IT secretary Jayesh Ranjan announced a slew of incentive schemes to lure the investors. The IT minister said that the government was poised to make Telangana state the most preferred investment destination soon.
"The government eye on huge investment in IT, ITeS and Gaming segment. We intend to increase the ICT investment up to $ 5 billion in next five years and targeted to enhance the export turnover to Rs.1 lakh crore from the current level of Rs. 60,000 crore by generating one million jobs in the ICT and electronics sector in the next three years. Hyderabad will be the ICT capital of India very soon", K T Rama Rao said.
Telangana has a significant amount of Software export in India. According to the reports, Hyderabad's IT exports exceeded $7 billion in 2014.The minister said that the government has identified 14 sectors including IT, ITeS, Electronics, BSFI, Defence and Manufacturing where the government would invite huge investment.
Giving information on the recent tie ups with MNCs, the minister said that the government has successfully roped in Uber and Tata-Boeing in the state. He said that the state government was developing Phase II of the financial district in the city.
The ICT sector currently employs over 3.25 lakh IT professionals, which makes Hyderabad the second largest IT exporter in the country. The minister made the announcement of ambitious T-Hub project claimed to be India's largest innovation incubation facility with built-up area of 300,000 sqft. K T Rama Rao said that Indian mobile vendor Micromax would set up its full fledged manufacturing unit in the state to boost the electronics manufacturing industry.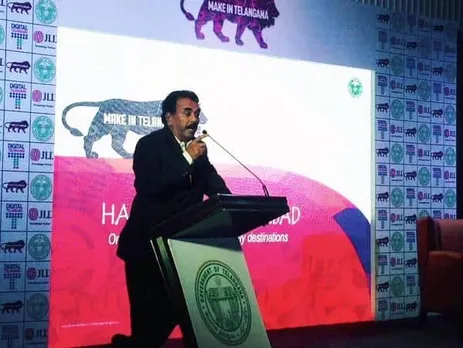 Differentiating its Industrial policy from other states, Industries minister Jupally Krishna Rao said that the policy offers seamless power and ease in government approvals.
"Our Industrial Policy promises seamless power and right to the single window clearance. There is provision of penalty for delay in approvals. The government officer and the concerned department will be penalized for delay in complying with government procedures. Our Industrial policy offers greater scope for transparency", he said.
He said the state has a huge land bank for industrial use and it has set aside 1.5 lakh acres of land for setting up new industrial units. He said that aiming to provide a seamless electricity power, the government would add 5,000 MW of solar power in next four years.