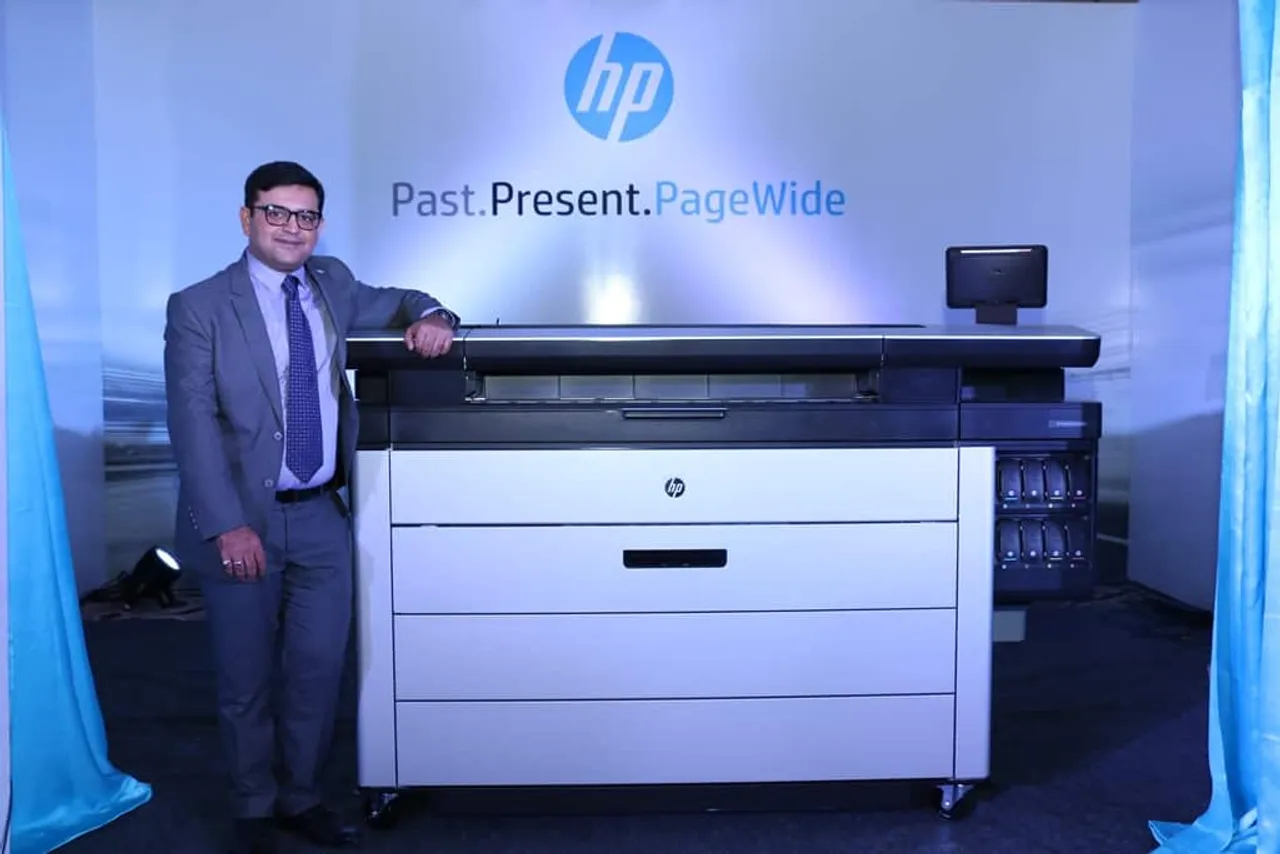 HP brings Large-Format Color and Monochrome Printers in the Market
HP added a new portfolio of HP PageWide XL printers with the launch of HP PageWide XL 8000 printer in India, offering high quality at high printing speed. It is noted to be the fastest large-format production printing which will be available in color and monochrome.
Based on reliable HP Thermal Inkjet Technology and HP pigment inks, HP PageWide Technology is offering high printing speed, up to 60 percent faster than the fastest monochrome light-emitting diode (LED) printer. It is scalable to meet a wide range of application and performance requirements and offers robust operation with economical print production.
With the replacement of ammonia to PageWide technology, PageWide XL 8000 will be a device at the fastest speed available which will revolutionize production printing at a large scale. It will be optimizing up to 50% energy in the total production, it will also enhance accuracy and will prove to be cost effective.
The new range of printers are expected to work for reprographic houses, print service providers (PSPs), enterprise central reprographic departments (CRDs) and print corners to produce computer-aided design (CAD) drawings and will open new business opportunities with geographic information system (GIS) maps, point-of-sale applications and posters.
Devang Karia, Country Manager Large Format Design, PPS, HP India said, "Large format printing will see a revolutionary change as it is a big achievement for the Indian market. PageWide and Inkjet will dominate the printing market for years to come, with time technology is taking the market space and if this situation remains same then print can never lose its charm."
The HP PageWide XL 8000 printer offers high-end production printing at high speeds, up to 30 D/A1-size prints per minute as it comprises of two 775 milliliter ink cartridges per color with automatic switching and sequencing 6 rolls at a times.
The new printhead platform for HP PageWide printing includes; high sustained drop rates for reliable print quality in high productivity applications, reliable drop ejection to reduce print quality defects from nozzle outs, improved dot placement accuracy to meet the requirements of technical graphics and stackability for a more compact 4-color print zone with the versatility to support a range of print widths.  Some specifications and features of the HP PageWide printhead are; HP thermal inkjet technology, 4-color (CMYK), HP PageWide pigment inks, modular stackable design, built in ink filtration and pressure regulation, user replaceable without tools or mechanical adjustments, and designed for sustained high speed printing.
HP announced three more PageWide XL series which will be launched in the coming year and the next, namely; PageWide XL 4000 and PageWide XL 4500 which are expected to cover the market in February 2016 and PageWide XL 5000 by December 2015.
PageWide XL 5000 will be a multi-function printer (MFP), benefiting small-to-medium sized reprographic houses and enterprise CRDs, providing mid-volume technical document production at up to 14 D/A 1-size prints per minute as well as two 400 milliliter ink cartridges per color with automatic switching.
HP has also announced new multi-function printers (MFPs) and printers powered by JetIntelligence; HP LaserJet 400 series printers and MFPs to help businesses complete their work much more quickly, use less energy and interact with a new, sleek design for the modern office.
PageWide XL 4000 is also a multi-function printer, helping technical work teams and copy shops to produce 8 D/A1-size prints per minute, helping teams increase on-the-job productivity. A speed upgrade option is also available which can produce up to 12D/A1-size prints per minute.
Chuck Wingard, president and owner, Tree Towns Imaging & Color Graphics said, "The HP PageWide XL 8000 Printer will enable us to streamline our workflow with one printer for a variety of high-quality black-and-white and color jobs at high speeds and will fill the gap between our existing technology to better service our diverse customer base."
During the launch HP also introduced HP Smart Stream software for HP PageWide XL Printers. This software will reduce time spent on the processing and thereby increase productivity.  It also reduces reprints with native PDF management powered by Adobe PDF Print Engine 3 and offers a true color print preview with interactive HP Crystal Preview technology to turn operator efficiency into operating profit.
For Protecting against security breaches, HP has came up with three new enterprise class LaserJet printers namely; The HP LaserJet Enterprise M506 series, The HP LaserJet Enterprise MFP M527 series and The HP Color LaserJet Enterprise MFP M577 series, which will  deliver increased protection against malicious attacks. The stronger security is part of a broader HP strategy to provide the deepest security across PCs and printers.
Parikshet Singh Tomar, Country Category Leader, Printing Systems, PPS, HP India said, "HP is helping customers secure their devices, documents and data by defending our enterprise printers with the strongest protection in the industry."