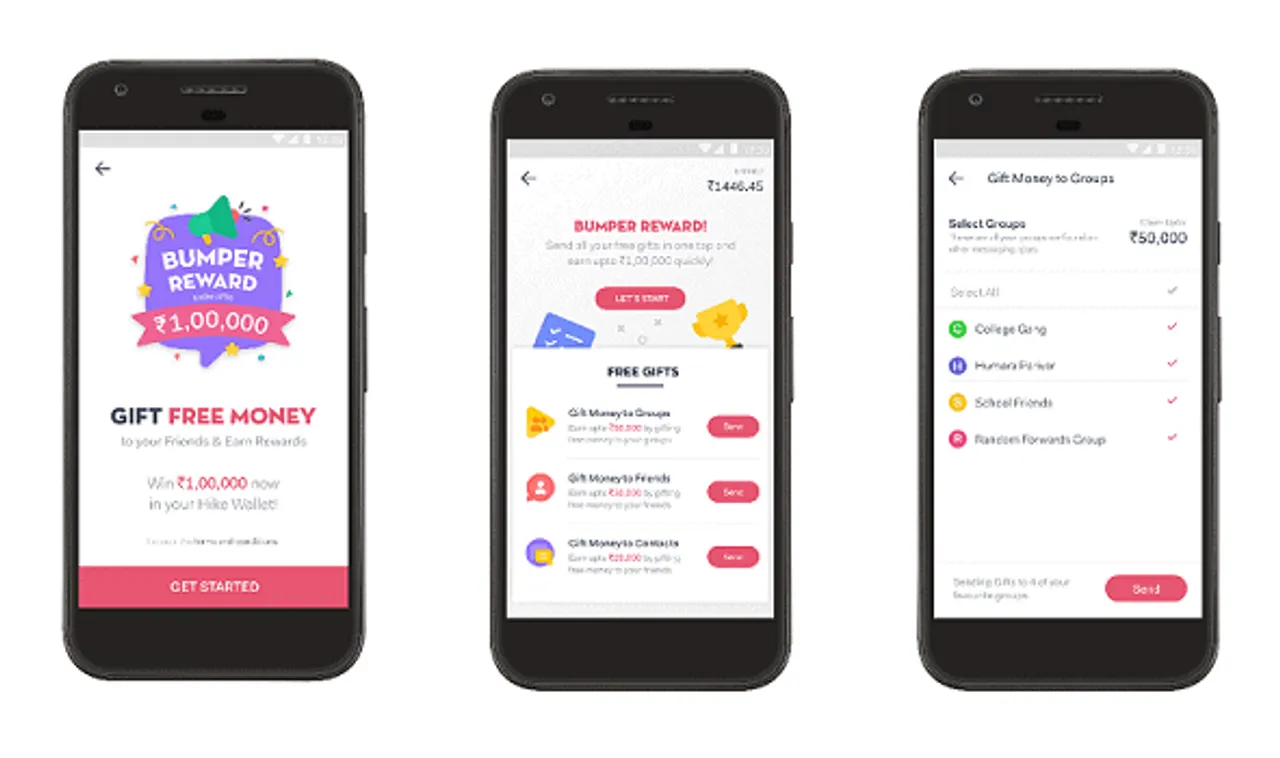 Hike Messenger, India's first homegrown messaging app today announced Hike Wallet crossing 5 million transactions every month. The Hike Wallet has seen a  growth of over 30% month-over-month, in just 5 months from the launch of Hike 5.0 and Wallet.
This makes Hike Wallet the fastest growing Wallet in India. Hike is the first messaging app to integrate payments in India and has seen a phenomenal response to the adoption of the Wallet with even a simple set of services like Recharge & P2P.
To make even more people experience the Hike Wallet, Hike has launched an innovative campaign wherein Hike users can gift free money to friends and groups and receive money in the Hike Wallet. This campaign addresses the two biggest asks from Hiker users - first,  enhance the Group experience and secondly make it easier to import their groups onto Hike.
By gifting free money to friends and Groups in the Hike Wallet is an added incentive to get more people to experience the Hike Wallet. The team at Hike has built a really slick experience over the last six months to address these requests from Hike users and have now rolled it out to all.
Do more than just messaging with Groups on Hike
There hasn't been much innovation in Groups in the last 5 years and Hike is on a path to change that. In the first version, there are a bunch of new really useful tools all built inside the chat and available at a single click. Groups can use - Vote, Bill Split, Checklists, Events with Reminders and even Teen Patti - with great ease and without the cumbersome effort of using multiple apps. And all this can work with a group size of up to 1000 members!
Invite Friends, Import Groups and Gift them to 1 lakh for Free!
Many of the Hike users want to add their friends and groups onto Hike in a simple way, almost like a one-click experience. And this is what has been made possible now. As a part of the campaign, Hike users can opt in and gift free money to their friends and migrate their groups and chats from other messaging apps to Hike easily with a few taps.
It's an incredibly simple experience. As an added incentive, Hike users can receive up to Rs. 1 lakh in the Hike Wallet. More than 100 million people have received free money from their friends on Hike so far. The money received in Hike Wallet can be used to Send Money, exchange Blue Packets & do Mobile Recharges. Over the next few months, many more services like Cabs, Movies, Bus & other tickets will be available!
According to Pathik Shah, VP Product at Hike Messenger, "We are excited to see the Hike Wallet cross 5 million transactions per month so quickly. Given the tremendous growth we're seeing, we've decided to double down and have launched an innovative campaign for users to gift free money to their friends and groups and also introduced new features to enable a great Group experience."