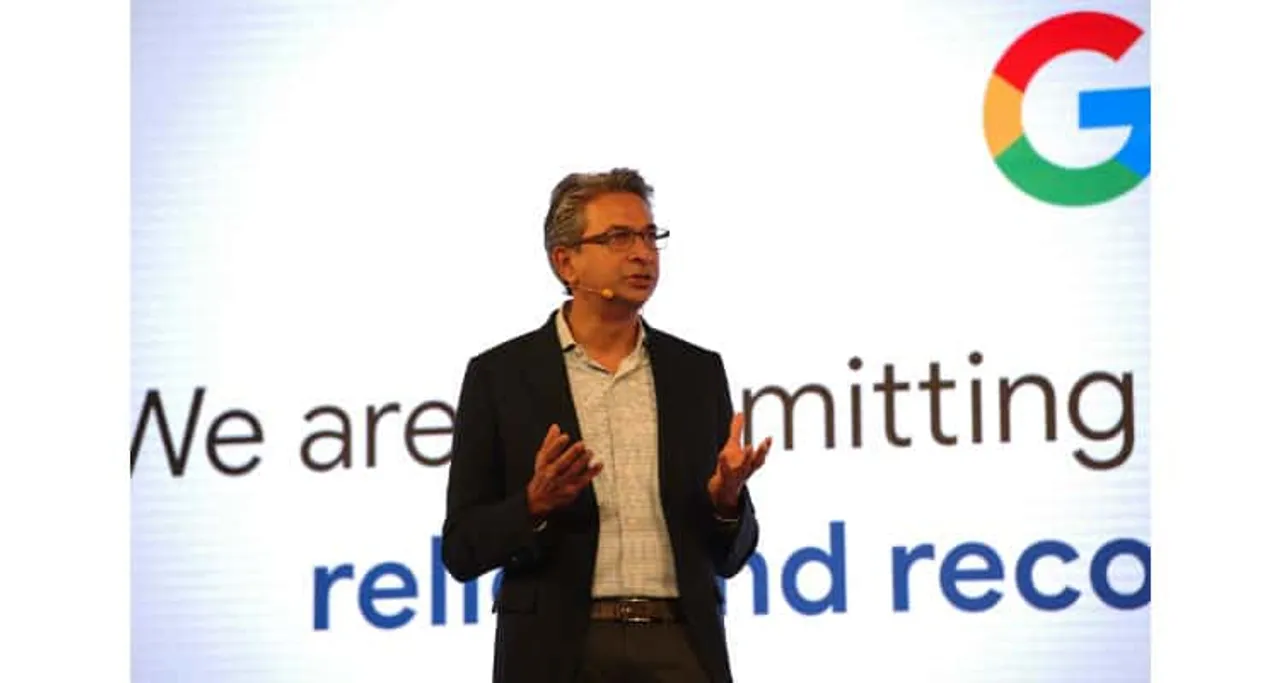 Google announced plans to bring more access to technology, more relevant product experiences in more languages to users in India.
Opening the event, Rajan Anandan, VP, India and Southeast Asia, focused on the role of technology in creating more locally relevant experiences for Indians. When it comes to Internet trends in India, Anandan noted that the big three themes that will define the future of India's Internet will be "Voice, Video, and Vernacular." He said, "Voice has been emerging as the preferred mode of use for new internet users. We're seeing major growth of voice queries in India. Furthermore, online video now accounts for 75% of all mobile traffic. And as for vernacular, the majority of the Internet users today are Indian language users, a number expected to reach 500 million plus in the next two years. 95% of video consumption is in vernacular languages."
Shashidhar Thakur, VP, Engineering, Google Search, said, "For Search to be truly helpful, it should bring you useful content, in all the languages you understand." Google then announced three launches towards that goal of expanding the reach of Indian content. First, Google is working with the 100,000+ offline Indian language publishers on Project Navlekha, which allows them to easily start their website and publish on a branded domain with a few simple clicks.
Second, users of the Google Go app can pull up any web page in English, Hindi, Bengali, Marathi, Malayalam, and Tamil, and simply listen to it with each word lighting up as it's read. Finally, the Search feed will now display users' favourite topics of interest as well as news, from both English and Hindi sources, using AI that learns users' interests to surface stories they would most likely want to read.
Pravir Gupta, Director of Software Engineering, said, "India loves the Google Assistant. In fact, Google Assistant usage has tripled in India since last year." He announced further features that make the Google Assistant more relevant to Indians, including the addition of Marathi language (on top of English and Hindi) as the first of eight new Indian languages, as well as integration with local apps Where Is My Train, Airtel, and Hello English.
Gayathri Rajan, Vice-President, Geo, announced new features coming to Google Maps that make the service more relevant to more Indians. Google Maps Go now brings turn-by-turn navigation functionality, while featuring a new home screen with convenient shortcuts. Google Maps is also adding better public transport guidance, which will inform riders of upcoming stops and alerts on when to get off. And thanks to a new partnership with RedBus — India's largest inter-city bus ticketing service — more than 20,000 routes and 1,500 cities will also be added for intercity bus journey routes.
Closing up, Caesar Sengupta, Vice-President, Next Billion Users initiative and Payments, Google, reminded the audience that "building for India has often meant Google building for everyone all around the world." He announced that payments app Tez is becoming Google Pay. At the moment, nothing is changing about the experience in India other than the name. The home screen has the same familiar contacts, mobile recharges are still just one tap away, and of course, sending a gift with a Happy Birthday spark, or paying a merchant direct from one's bank account with no fees is as quick and easy as ever. In coming weeks and months, Google is making Pay even more useful through expanding the places users can pay in-store and online, expanding services for merchants, and working with the banks to provide instant loans to Google Pay users.
Sengupta also announced that Google Station is partnering with Andhra Pradesh State FiberNet Limited to bring Google Station to over 12 thousand villages, towns and cities in Andhra Pradesh — potentially 10M people. This will provide high-quality Internet access to areas that have never been connected before, from hospitals in cities like Vijayawada and Visakhapatnam, to Gram panchayats, primary health care centers and other public places across many villages. And finally, Android Go smartphones will see further momentum with the first Android Go phone soon coming from Samsung.
Taking note of the impact of the floods in Kerala and Karnataka, Google also shared that Google.org is making a $1M USD grant (including contributions from Googlers across the world) to several NGOs in India to support the relief and recovery efforts in the most impacted regions.