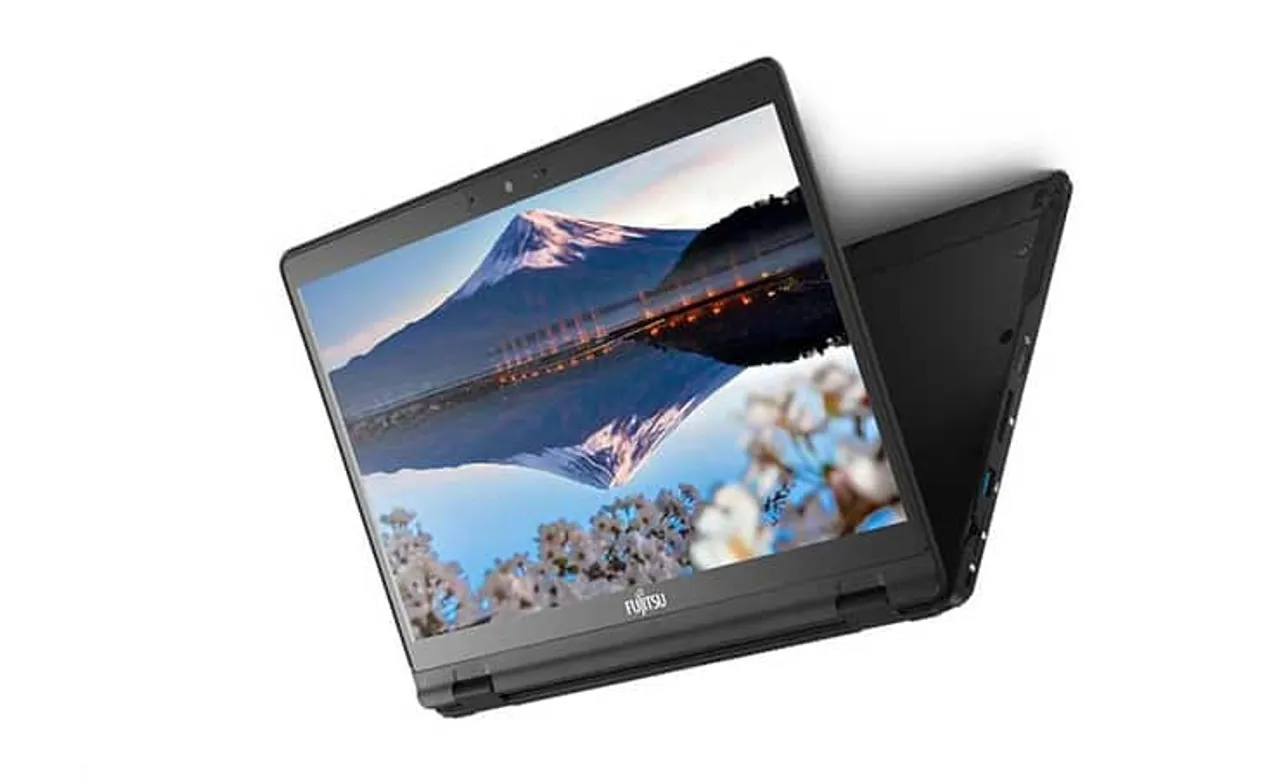 Fujitsu Client Computing Limited (FCCL) has announced the launch of its consumer PC business in India with the lightweight UH-X series of laptops. This series includes the portable lightweight UH-X and the UH-X Convertible 2in1, powered by the latest 11th Gen Intel Core processors. UH-X Convertible 2in1 and UH-X are both India's lightest consumer notebooks in the convertible and thin & light category respectively.
FCCL brings the Takumi craftsmanship with a premium design and Japanese build quality.
The UH-X Convertible 2in1 is a 360° convertible laptop which offers ultimate flexibility and weighs only 997 grams, making it India's lightest convertible in the 13.3" consumer notebook space. With up to Intel 11th Gen Core i7 processor, Intel Iris Xe Graphics, and a 13.3-inch FHD IGZO anti-glare touch display, this 2in1 laptop combines the flexibility of a tablet and the productivity of a notebook into one powerful laptop. In its tablet mode, users can use the 5M rear camera to record meetings and other information and use the 'shortcut button' on the keyboard to launch the active pen memo application and take notes. The device also has a built-in active pen with 4096 levels of pressure, and a pen holder with a charging feature that ensures the pen never runs out of battery.
Reemphasising the brand's commitment to design and the Japanese craftsmanship, this Fujitsu laptop offers improved resistance to screen breakage and better shock absorption with elastic resin parts at the front corners.
With a battery life of up to 11 hours, the UH-X 2in1 is equipped with Windows Hello which has instant face recognition with the help of its inbuilt IR camera.
Weighing only 878 grams and with three side narrow bezels and 81% actual aspect ratio (AAR), this makes UH-X India's lightest consumer notebook in the 13.3" Thin & Light Category. UH-X comes equipped with a 13.3-inch FHD anti-glare IGZO panel display, with 100% sRGB coverage and up to 400nits brightness. It is the perfect choice for remote working during the new normal, thanks to enhanced security offered by the webcam camera shutter and fingerprint sensor, the noise-canceling microphone and box speakers with Dirac Panorama Sound and a wide selection  of ports suitable for online meetings. UH-X also promises battery life up to 11 hours with Quick Charge which allows 50% battery charge with just 30 minutes of charging. Additionally, users also have the option to recharge the device with a mobile battery in case the battery runs out.
UH-X uses Magnesium Alloy construction which has an edge over iron or aluminum with the same strength while being lighter in weight and reduced thickness. Multiple stress tests assure product durability.
UH-X also comes with up to 11th Gen Intel Core i7 processor for smooth performance and offers high speed Wi-Fi 6 connectivity.
Takeshi Okuma– CEO, Fujitsu Client Computing said, "In Japan, Takumi refers to a craftsman who is very difficult to match in their particular field of expertise, and at FCCL we match that philosophy of Takumi craftsmanship to reflect in our products. With the unmatchable light weighted-ness of the new UH-X series notebooks, we hope to set a great example for consumer PC design. Consumers are now increasing their demands for machines that are ultra-portable and can be used in more than one way, at anytime and anywhere. Keeping this in mind, the UH-X series is aimed to empower users with performance and portability and help them keep up with the ever changing environment."
Prakash Mallya, Vice President and Managing Director – Sales, Marketing and Communications Group, Intel India said "We are very excited about Fujitsu's return to the Indian PC market. The company's principle of Takumi craftsmanship resonates strongly with Intel's philosophy of producing the best processors for our consumers. With the latest 11th Gen Intel Core processors, we are bringing unique innovations and best-in-class features to the masses. We are excited about our partnership with Fujitsu and welcome them to India."
Talking about the launch, Noor Patel – Director Category Management, Amazon India said "We are humbled to be the partner of choice for FCCL to bring its new range of lightweight UH-X series of laptops in India. The Fujitsu brand represents strong performance coupled with premium design and exemplary craftmanship. We are confident that both the products will not only meet but exceed customer's expectations. Today's launch is an example of Amazon India's commitment to bring best-in-class products, across categories, to our customers. We are extremely excited to launch these products on Prime Days and wish team FCCL all the very best as they embark on this journey in India."