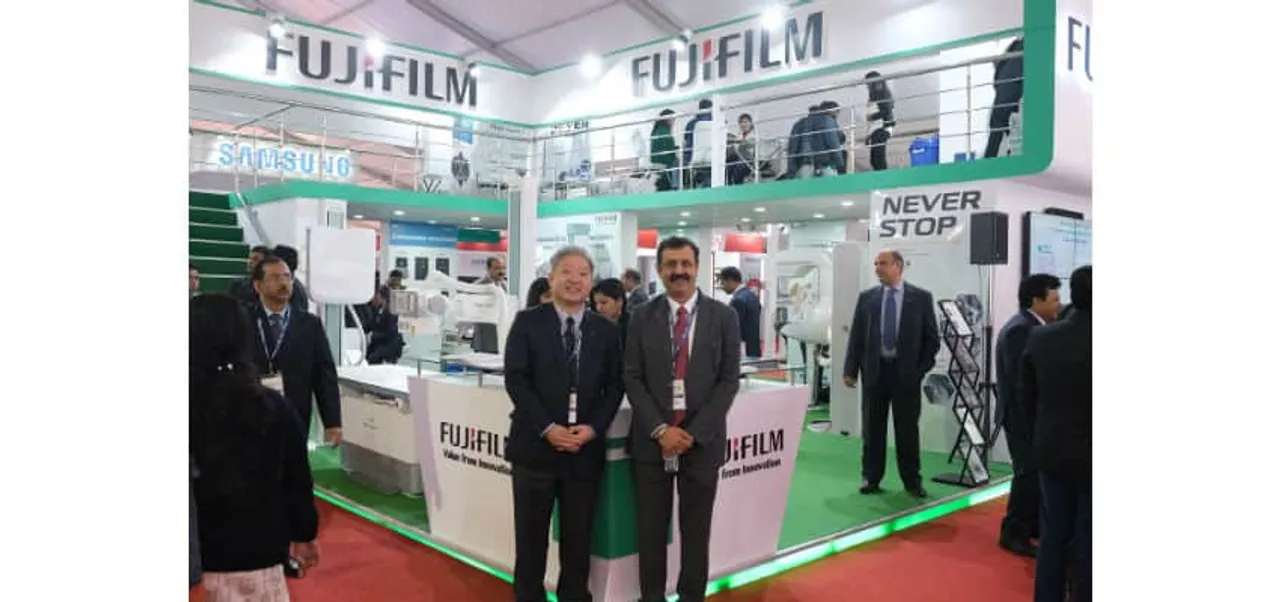 Fujifilm India Private Limited has showcased its latest medical equipments at the 72nd National Conference of the Indian Radiological and Imaging Association (IRIA).
The three-day long conference is scheduled from 17th – 20th January, 2019 at PGIMER, Chandigarh, India. As part of the event, Fujifilm will be displaying its latest medical devices like Full Field Digital Mammography (FFDM), Digital Radiography (DR), Computed Radiography (CR) Systems, Medical Informatics (medical imaging and information management system) and Ultrasound Equipment.
In FFDM, Fujifilm is showcasing its state of the art Amulet Innovality- a highly advanced breast cancer diagnostic machine that has made early detection of breast cancer a reality with its 50 Micron 3D image quality and advanced tomosynthesis technology that reveals the internal structure of the breast with a precision enabling the detection of lesions that ordinarily get overlooked in a routine mammography. Fujifilm India has already installed this product in over 26 government as well as private hospitals in India.
In DR systems, the company is displaying the FDR Smart F – Fujifilm's latest high quality, cost effective digital X-ray system which can be easily installed in limited spaces and is easy to use. This product was especially designed for emerging countries like India.
In CR systems, Fujifilm is showcasing the Prima TM – an affordable High-speed image processing tabletop FCR (Fuji Computed Radiography) with mammography compatibility. It sports a space saving design and provides superior image quality of 50 Micron resolutions.
In Medical Informatics, the company will showcase the SYNAPSE-PACS, RIS and Mobility Solution to provide improved workflow, efficiency and quality of reporting in radiology departments. Since 1999, Synapse has been transforming healthcare organizations with continuous innovation in diagnostic image management, advanced visualization, enterprise imaging workflow and shared informatics architecture.
In the Ultrasound space, Fujifilm will display the SonoSite X-Porte FC-I – an ultrasound machine with breakthrough extreme definition imaging for pinpoint precision. It comes with educational resources such as step-by-step tutorials viewable simultaneously with live scans.
Also on display will be the newly launched EPSILON EP CORSA 15kW and EP CORSA 32kW which are ergonomically designed Digital Radiography Systems with High Frequency X-ray generator and two position X-ray examination table which is a new CONCEPT that improves workflow and throughput. It offers affordability, robust system design and high quality output. The system is designed to suite all radiographic examinations from skull and pelvis to extremities.
Commenting on the association with IRIA 2019, . Haruto Iwata, Managing Director, Fujifilm India Pvt. Ltd. said, "The Annual Conference of Indian Radiological & Imaging Association is one of the key medical conferences in India to showcase our prowess in the Healthcare industry. It is our constant endeavor to innovate and provide high quality medical solutions that will contribute to better healthcare facilities and services in India. The DR Panels has been among our focus product this year and we are looking at a 50% growth in its sales by the end of this fiscal. Our FFDM – Amulet Innovality has been another focus product and we have already achieved 26 installations. With these attempts Fujifilm India's Medical Business is surely expected to witness a double digit growth in revenue by the end of this fiscal."
"We are optimistic that with our advanced range of Digital radiography equipment will deliver productivity gains for radiologists and maximize image quality. Through this alliance, we aim to educate our consumers and medical professionals of the solutions offered for integrating, analyzing, and processing the vast amounts of data with these advanced technologies. Therefore, resulting in more efficient and higher quality medical services available at medical institutions." added . Chandrasekhar Sibal, Senior Vice President - Medical Division, Fujifilm India Pvt. Ltd