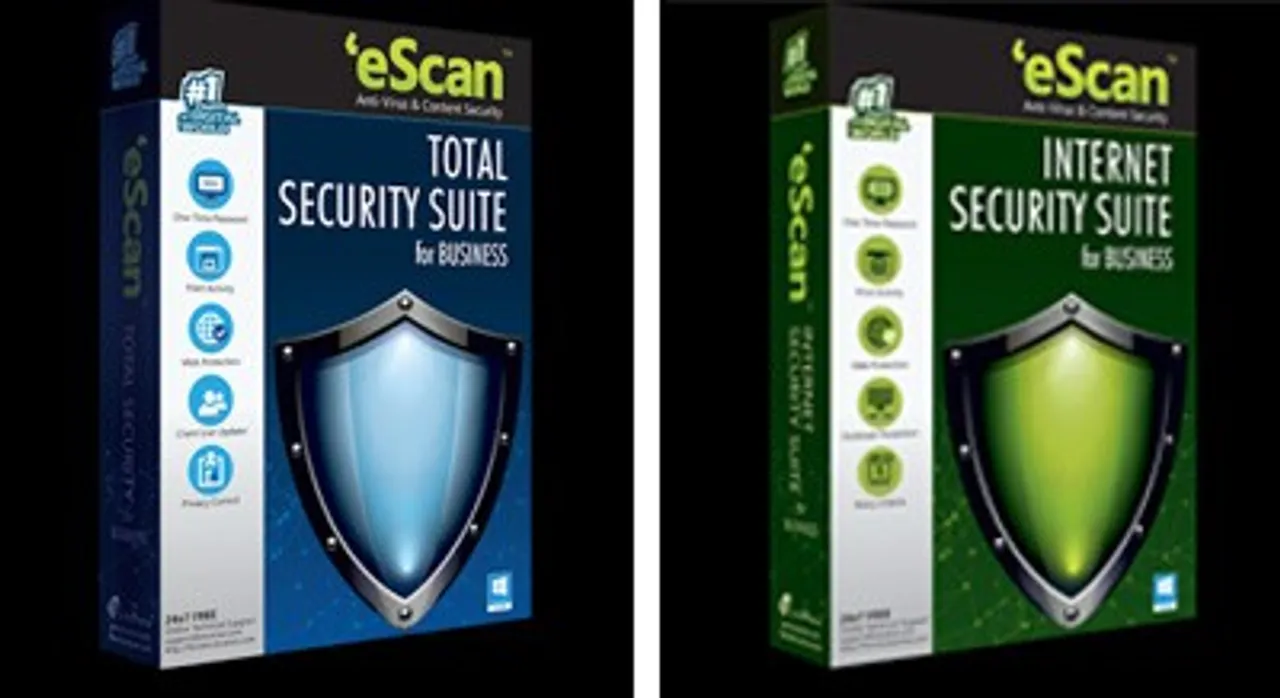 eScan, Anti-Virus and cyber security solution providers, now brings you its latest security solutions 'eScan Total Security Suite for Business' and 'eScan Internet Security Suite for Business' for small to corporate segments. These products are designed and developed with thorough research and feedback from decision makers across these business segments.
These products are designed keeping in mind the latest evolving cyber threats such as Ransomware, Adware, Key-loggers, and other malicious programs. The eScan Total Security Suite and eScan Internet Security Suite for Business security solutions comes with an advance secure web interface with summarized dashboard. The Web Interface uses SSL technology to encrypt all communications. The dashboard provides an easy to view & summarized report for IT administrators. It shows the status of all managed endpoints in a network in graphical format, such as deployment status, protection status, as well as protection statistics. The enhanced Device Control module protects the endpoints from data thefts and security threats from USB or FireWire based portable devices. The new Application control feature helps to block unwanted applications from running on the endpoints by IT administrators. In addition, this features help to determine which applications and portable devices are allowed or blocked in the network.
In addition, it also includes features such as Policy Template, Customized Client Setup and Policy Criteria. To make Policy deploying easy, Policy templates helps administrators to create and deploy the same in network groups. Customized client setup along with Policy Templates, allows administrators to implement group policies to the endpoints automatically. The admin has an option to deploy group polices/criteria either predefined or customized templates at endpoints by using management console or through offline modes for endpoints which is not in the network.
The Web Protection feature helps to blacklist or whitelist websites to safeguard from malicious attacks. The products also provide a single view SIEM (Security Incidents and Event management) report to administrators to manage & control the endpoints. This provides reports of the managed endpoint like startup, shutdown, logon, and log off, remote session connects, disconnects etc. With this report the administrator can trace the user Logon and Logoff activity along with remote sessions that took place on all managed computers.
Govind Rammurthy, CEO and Managing Director, eScan, said, "With our in-depth research and feedback from valued customers globally and the evolving cyber threats (such as Ransomware) targeting the small business to corporate, We developed these products keeping in mind the growing IT dependence by businesses and lack of skilled IT personnel to manage the growing cyber threats to networks. Hence, the products are designed for ease of deployment and to provide robust network security."