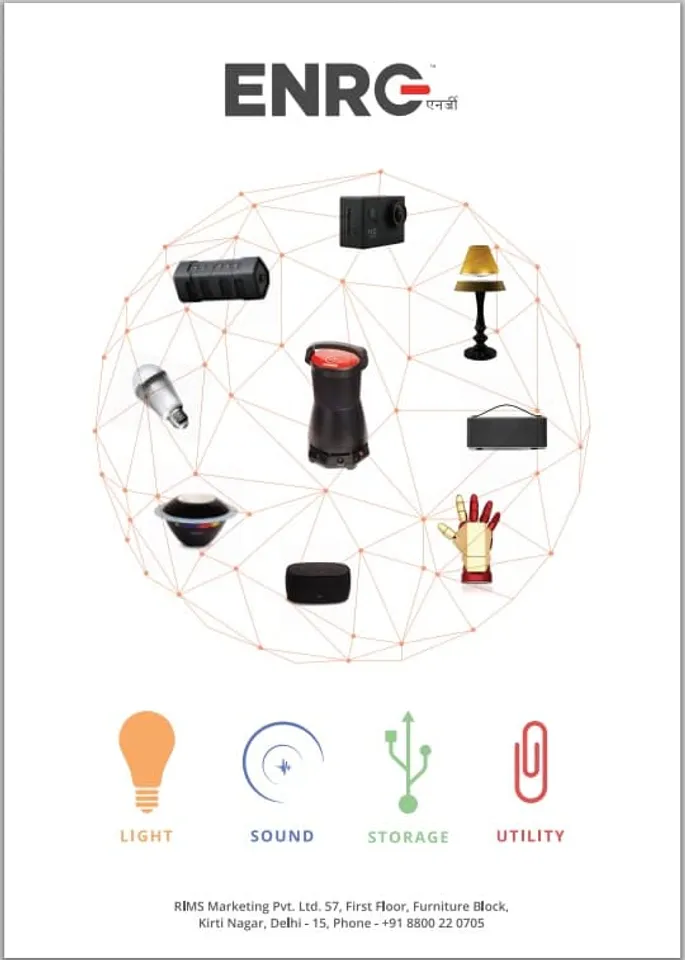 ~from high quality sound to innovative, stylish storage & Utility products~
ENRG, a consumer lifestyle electronics offers a wide range of innovative products for corporate gifting, this festive season at an affordable price range of Rs 500 to Rs 5000 in a market which is highly unorganized. The company specializes in the product range of interesting light, portable and high quality sound, stylish storage and utility products.
In the lamps & lightning category, products include speaker bulb, Travel lamp, Smart LED lamp, UFO LED mood light, LED Desk lamp,Prism bulb & Floating lamp(Levitas).In the portable and sound category, the company has amazing high quality speakers (Bluetooth + NFC enabled) with the names Jazz,1+1,Mondo,Super Dock, Hodor 120, Opera ( head shower speaker) & Opulent (audio Tv sound bar)
Besides this, the company also focus into utility and storage products like Power banks with recharge station,smart,LED flashlight power bank,ENRG i-trip,ENRG Smart band,ENRG, Memobottle, highly stylish and quirky drives - Art Reactor drive 16GB,Iron Man Hand 8GB,Iron Man Face 16GB Thor Hammer 16GB,Captain America 16GB, Hulk 16GB which are quite innovative and best options for corporate gifting.
Another flagship product in B2B space which is quite relevant for corporate gifting is ENRG Videochure-high end digital brochure designed to attract customer attention and do effective and impactful marketing & communications, promotional campaigns, unique way to invite, be it a corporate event, conferences or personal occasions like weddings or birthdays. This is a new concept in India and one can customize these displays as brochures, invites, photo frame, and many more items as suitable to their business and personal needs. The best part is that the finished products with our high quality printing can be used an out-of-the-box and premium marketing and communications solutions," said Nikul Raj Gupta, CEO, ENRG.
According to industry sources, the estimated market for corporate gifts in India is above Rs.12,000 crores and is expected to grow at a YoY rate of 12 percent annually.