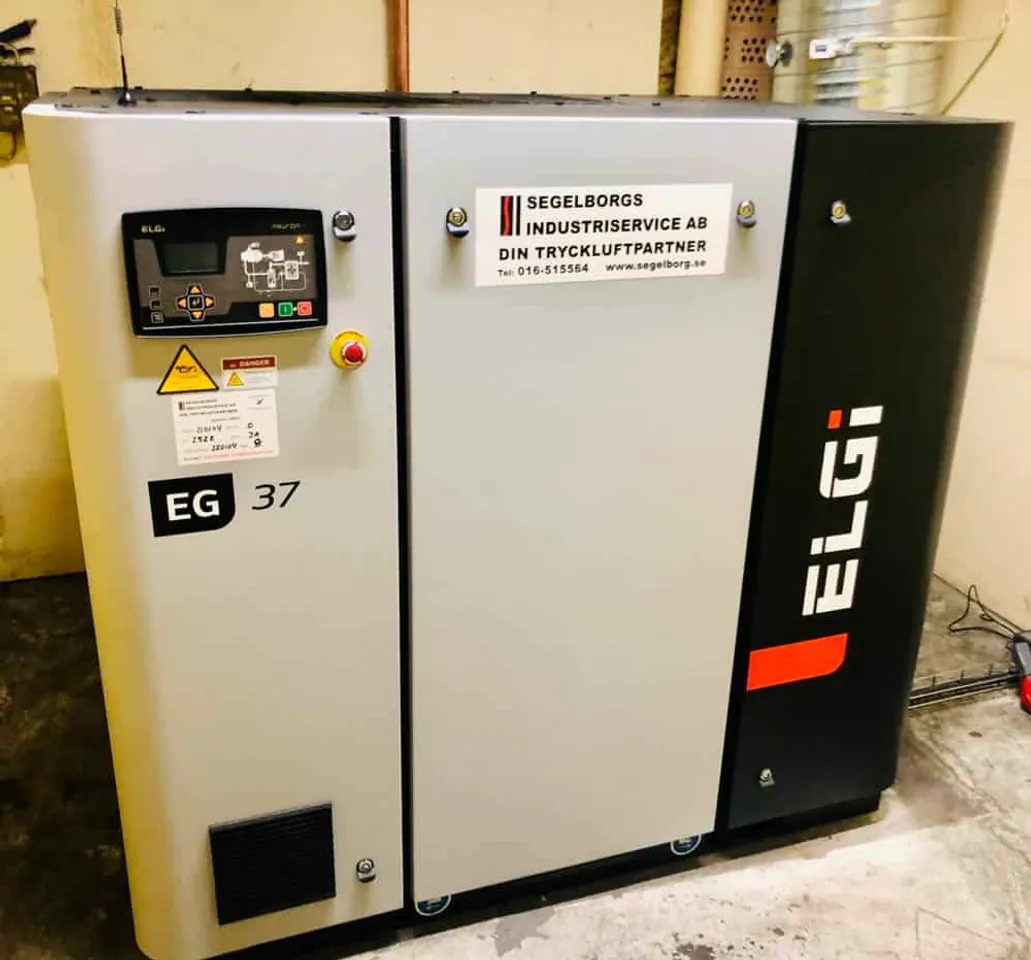 ELGi Compressors Europe, a subsidiary of ELGi Equipments, one of the world's leading air compressor manufacturers, announced today that one of its customers, SOLÖ Mechanical, will realise up to 20,000 EUR in energy savings over the next five years with an ELGi EG Series screw air compressor.
SOLÖ Mechanical, a Swedish provider of sheet metal and cutting, processing, welding and assembly services, was looking for a partner to resolve the efficiency, noise and pressure issues they faced with their erstwhile air compressor. The ELGi team in Sweden conducted an energy audit of the compressed air system using the ELGi Air Audit. The audit identified inefficiencies and provided recommendations for an upgrade along with expected savings and cost estimates.
Based on the audit's recommendations, SOLÖ Mechanical replaced their aging compressor with an ELGi EG37 VFD (Variable Frequency Drive) unit. The ELGi Air Audit analysis (also confirmed by an independent third-party consultancy) estimated that SOLÖ Mechanical would save approximately 350 EUR a month or up to 20,000 EUR in five years in energy spends, from upgrading to the EG Series. After having commissioned the unit in January 2021, a recent energy audit conducted confirmed the energy savings. After only five months, ELGi's EG Series has already saved SOLÖ Mechanical 1,630 EUR.
"We've been looking for a partner that could provide us with an accurate overview of our compressed air needs while recommending a solution that could deliver reliable, uninterrupted, compressed air at lower operational costs," said Tommy Bolinder, Maintenance Manager at SOLÖ Mechanical. "The team at ELGi suggested an air audit, which clearly indicated the improvement areas along with recommendations for the steps we needed to take and what savings the project will generate. They showed us how to save 4,364 kWh of energy a month by replacing the present compressor. Numbers speak for themselves, so it was easy to make this decision as it is a 47% saving on my energy bill."
"Understanding the performance and efficiency of compressed air systems is critical in every industrial application as it directly influences our customers' bottom lines," said Patrik Almström, Area Sales Manager Sweden at ELGi. "With the ELGi Air Audit, we presented a clear picture of how they can reduce power consumption and the wear and tear on the compressed air systems while extending lifetime and lowering life-cycle costs. With the air audit results from SOLÖ Mechanical, we provided a tailored solution; one that maximises the customer's energy savings."
The robust design of the EG Series compressor range enables operations at extreme temperatures – from cold to hot and from dry to extremely humid conditions, leading overall to higher reliability of the compressed air system. ELGi's high-efficiency airends equipped with in-house developed η-V profile rotors, with 4/5 lobe combination, are designed to run at low rotor speeds. This unique design reduces pressure losses, and together with the OSBIC (Oil Separation by Impact and Centrifugal action), 3-stage separation provides best-in-class energy efficiency.
Thanks to low operating speeds further improved by the operational Variable Frequency Drive (VFD), the air compressor can adapt to the changes in demand and optimize the airflow, saving energy costs. These EG compressors run very quietly, contributing to improved employees' comfort at the SOLÖ Mechanical plant.