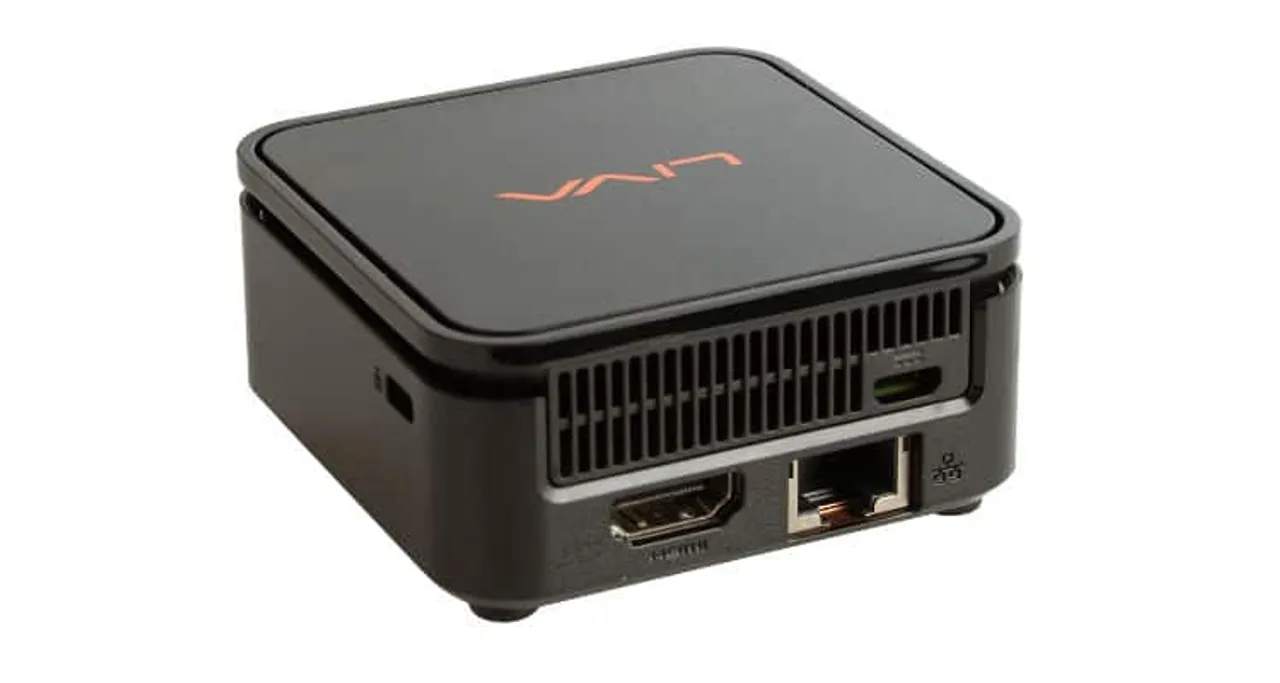 Elitegroup Computer Systems (ECS) launches LIVA Q, the world's smallest Windows-based Mini-PC. The newly launched LIVA Q is a pocket-sized Mini-PC featuring latest Intel Apollo Lake SOC processors; along with 4GB RAM 32GB eMMC storage and HDMI 2.0. The latest series of LIVA product supports and enables the handling of 4K content playback with ease.
The new LIVA Q allows one to stay connected with dual network options, a standard RJ45 LAN connector for more stabilized connection and 802.11ac + Bluetooth 4.1 for wireless connections. On the storage front, it boasts of a MicroSD card slot that supports up to 128GB memory card for the users who wishes to have more storage along with x2 USB slots for other devices.
The key USP of LIVA Q is  its compact size ; the smallest Mini-PC of its kind, measuring just about 70 x 70 x 31.4mm in size and weighing 260g only. The 0.15L Mini-PC also comes with a VESA mount which allows users to hang / hide the Mini-PC behind monitors / TVs, specifically ideal for limited space and perfect for those who wish to replace their bulky HTPC and enjoy 4K quality media entertainment at their home or any other place.
The word LIVA comes from the combination of "Living" and "Life (Viva)" and the spirit of living a better life. LIVA aims to express the passion and the pursuit of aesthetics in every way of life through this product. LIVA is sleek, with wireless connectivity to cut down on chaotic cables. It is ideal for home and office users because of its comprehensive features, compact size, stylish design and affordable price.
On this occasion, Ken Cheng, Director of IMS Division, Elitegroup Computer Systems said, "ECS will always provide solutions with cutting-edge technology, diversified product portfolio. Mini-PC product line is part of our plans which is based on ECS's core competence. We would like to see Indian customers leveraging our innovative product to change their daily life & make lifestyle more convenient".
"At ECS we keep expanding the LIVA family with perpetually comprehensive designs and innovations. Smaller size, more features and performance are transformed in each of the generations. Carrying on the LIVA legacy forward, we proudly announce LIVA Q as the smallest palm sized Pocket PC available in the market today" quoted Rajshekhar Bhatt, Country Manager at Elitegroup Computer Systems Co. Ltd.
Further he added, "Over the years we have always tried to come out with the products which helps India progress in the right direction, be it supporting Digital India, Green Technology revolution to name few. With our superior design & products we help organizations save on Infrastructure & energy consumption costs, eventually help India grow".
Key Features and Benefits:
World's Smallest 4K Pocket PC
Compact in size, Big in Performance
Plug and play, Design Concept
System On/Off via TV/Monitor Remote
Fits Everywhere
Micro SD Slot for Extended Storage
Online Anywhere with LAN/WiFi Options
Your Ideal Desktop/Media Station Replacement
No Compromise for Full PC Functionality
Pricing and Availability:
The new LIVA Q is available through authorized ECS partners, other reseller channels and ecommerce portals at the listed price of:
LIVA Q 4G/32GB, With 10 Home; INR 15,500/- excluding taxes
LIVA Q 4G/32GB, Without OS; INR 13,500/- excluding taxes