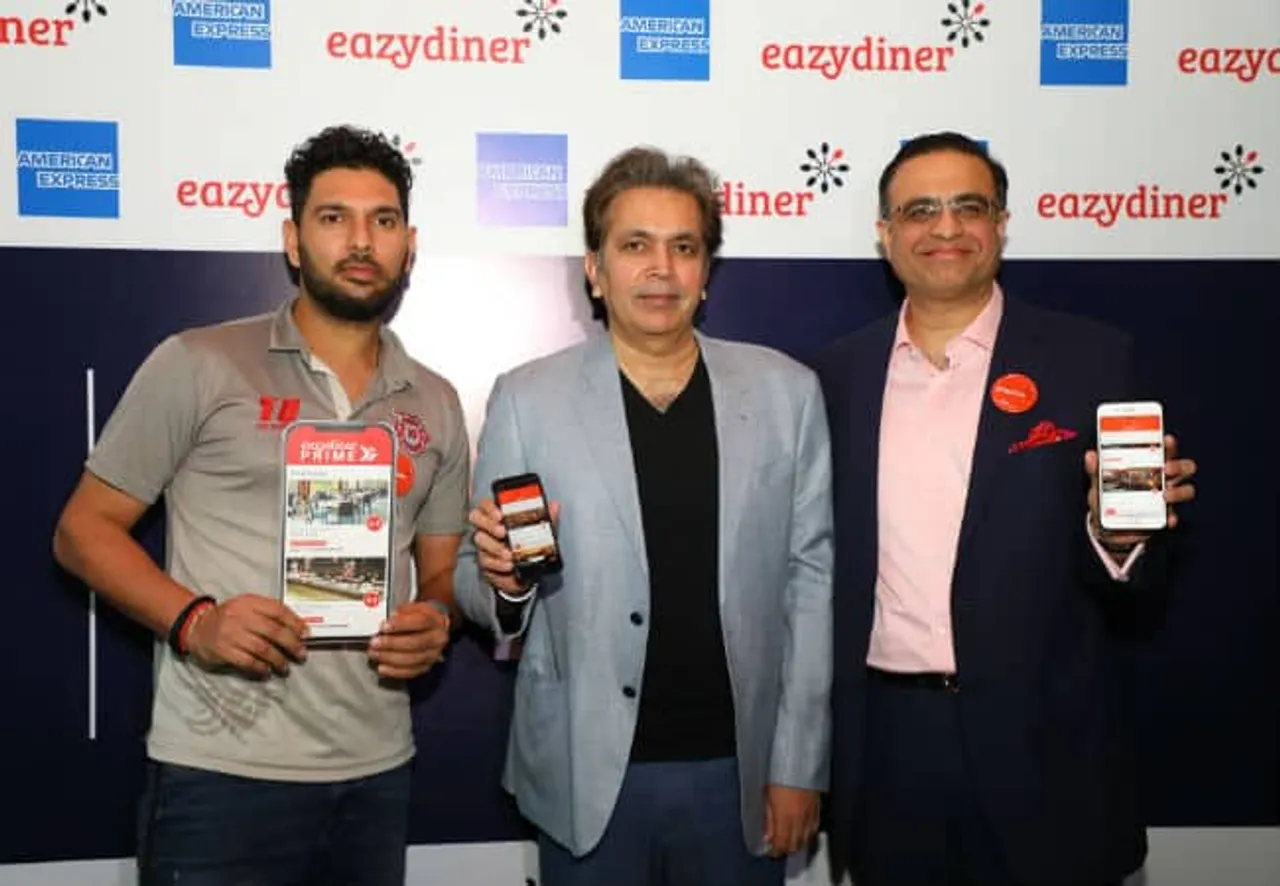 EazyDiner announced the launch of the country's most exclusive and powerful dining program. Launched as an exclusive partnership with American Express, EazyDiner Prime features over 400 (and growing) of India's best restaurants curated on the basis of consumer feedback. The program offers substantial benefits with great savings every time an EazyDiner Prime member eats out.
In line with the exclusive nature of the program, EazyDiner Prime is being launched with American Express in India and Dubai. Marquee restaurants that are bookable only on EazyDiner Prime include Indian Accent (New Delhi), Wasabi by Morimoto (Taj Mahal, Delhi), Wasabi by Morimoto (Taj Mahal Palace and Towers, Mumbai), Megu (The Leela Palace, Mumbai), China Kitchen (Grand Hyatt, Mumbai) and Masala Library (Mumbai). Gaggan in Bangkok ranked as Asia's best restaurant for 4 years in a row is a recent addition to EazyDiner Prime and will be available for booking soon.
Manoj Adlakha, SVP & CEO, American Express Banking Corp. India said, "We endeavor to provide our Cardmembers with exclusive access, unparalleled privileges and rewards aligned to their lifestyle needs and aspirations. Customer feedback and spend patterns indicate dining is a key interest area for our Cardmembers. Transactions at dining establishments grew 42% in 2017 over 2016. We are excited to partner with EazyDiner to launch EazyDiner Prime. The platform offers a seamless dining experience through friction-free access to India's top marquee restaurants. From priority reservations to value-laden offers and exclusive never-seen-before deals, the program has been customized to meet the needs of the discerning customer. We are confident that Card members and participating merchants alike will benefit from this partnership."
Kapil Chopra, Chairman of the Board, EazyDiner commented, "With EazyDiner Prime, we take dining out to a different level with a powerful program that enables anyone to enjoy exclusive discounts across all restaurants over the country. It disrupts other dining programs as the discounts and offers are not just limited to the member or a few items on the menu or bill; but are applicable to the entire meal, truly celebrating the dining experience. The 25% up to 50% discounts are on the total bill and in some restaurants in addition to the discount, there are premium complimentary drinks for the entire table. We aim at making eating out rewarding, easy and friction free."
Speaking at the launch, Yuvraj Singh, brand ambassador of EazyDiner shared, "It has been an amazing journey being a part of EazyDiner in its quest to reduce the friction between the diner and the restaurant. The launch of EazyDiner Prime is yet another example of how EazyDiner is making it easier for all of us to save both time and money with unbelievable deals. I love to eat out when not training or playing, and if I get an instant confirmation and always something extra at the top restaurants across the country - then why not? This is a great platform to offer maximum benefits to the people who love to celebrate and eat out."
The EazyDiner Prime subscription offers best-in-industry benefits such as:
· A minimum of 25% discount to exclusive 50% discount at over 400 best restaurants in India
· Over 100 restaurants offering a complimentary premium drink to all diners, in addition to the discount – these range from The Whisky Bar, Gurgaon to The Great Wall at The Leela Mumbai; Dashanzi at JW Marriott, Mumbai; Zanotta at Leela, Gurgaon, and Pondicherry Café at Sofitel, Mumbai.
· Complimentary prepaid dining vouchers worth Rs. 2,000
· 20% cashback in the EazyWallet for the first 5 restaurant transactions
· A dedicated 24x7 private concierge hotline
· Priority reservations at restaurants across Delhi NCR, Mumbai, Bengaluru, Pune, Chennai, Kolkata, Goa, Ahmedabad, Jaipur, and Dubai.