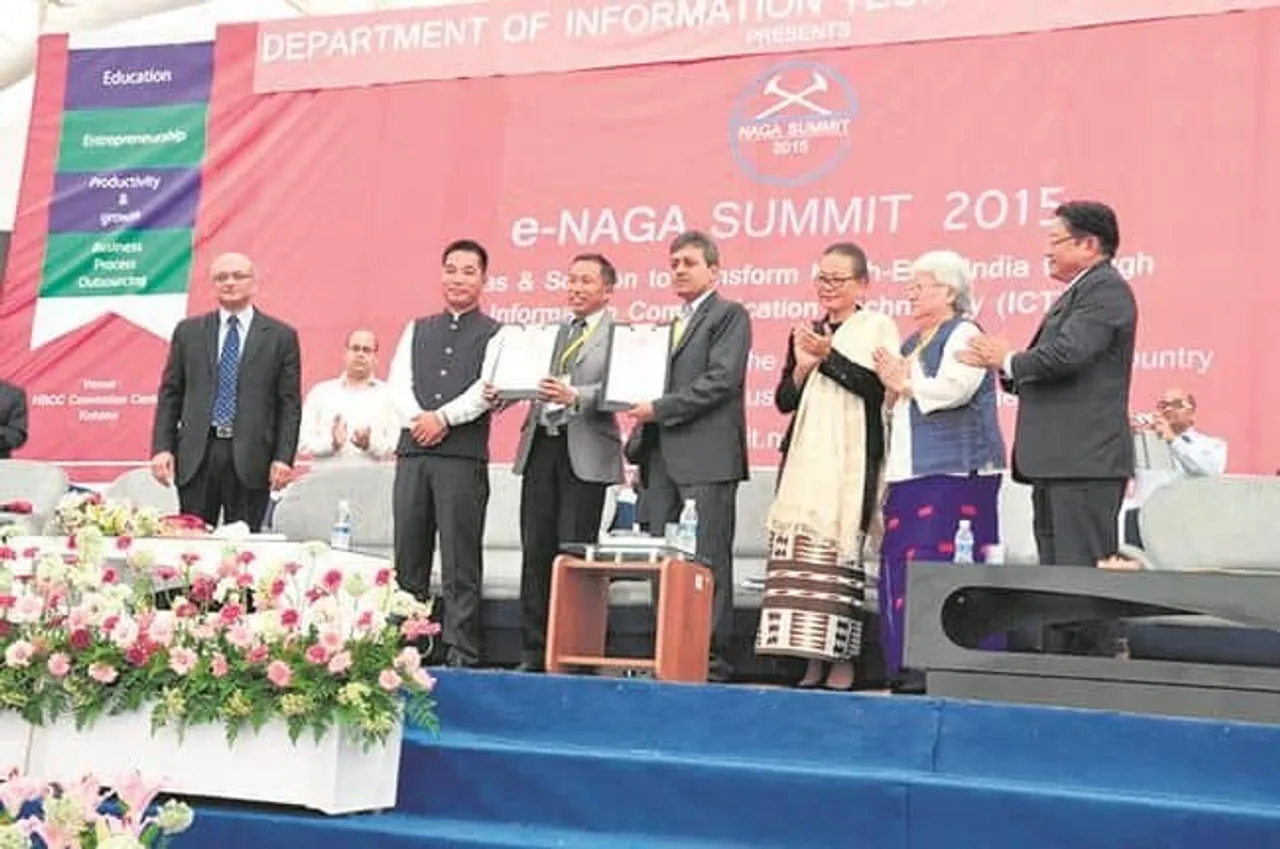 With a mission to engage the best minds from academia, industries, government and entrepreneurs to empower people with new ideas, innovation and solutions to transform the region through IT & C, the first e-Naga Summit was held at the NBCC Convention Centre here after it was launched by P. Paiwang Konyak Nagaland minister of transport, civil aviation, IT&C.
In his address, the minister said Nagaland was one of the first states to seize the opportunity given by the Modi government for starting Business Process Outsourcing- BPO (Call Centre) in the region the first state in North East to introduce online payment through the state portals such as- NSWAN, State Data Centre and e-District project.
Paiwang also expressed optimism that Nagaland would emerge as a leader in e-governance and IT sector not only in North East but also in the country. The minister said the e-Naga Summit 2015 would showcase the importance of e-governance and information communication and technology in bringing about a visible change in the society. He said the ultimate objective of e-governance was to make all service accessible to the common man through common service delivery to ensure efficiency, transparency and reliable at affordable cost to meet the basic needs of the common man. Paiwang also mentioned new digital India programme announced by the prime minister which offers utility to every citizen, governance and service on demand and digital empowerment of citizens. The minister also informed that a common website of all departments under Nagaland government be created, maintained by IT & C by placing its manpower in different departments as similar to accounts staffs posted by directorate of treasuries and accounts.
On the strength of employees in the IT & C department, the minister said it was being manned by 15 regular staffs whereas there were many departments which had more than 1500 regular staff. He lamented that post creation had been stopped due to financial constraints that which had affected young and vibrant departments like IT & C from being nurtured. The minister assured that he along with the IT & C department were ready to walk extra mile to see that Nagaland was well placed in the field of information and technology. Paiwang expressed optimism that the e-Naga would bring a change in the mindset of the Nagas and lead to a way forward to make Nagaland an important e-destination.
Although chief minister T.R Zeliang who was chief guest, was unable to turn up, his message was read out by the chairman of the function, Chief Secretary Pankaj Kumar, IAS. The chief minister in his message highlighted the crucial role being played by e-governance and IT in a modern world in transforming society by bringing transparency, efficiency and delivery cost effective public services.
The chief minister indicated that the main reason for failure on the part of New Delhi to uplift the north east region was that the plans were not fitting to the needs. In this regard, he opined that one failure was that information was not being properly collected from the region for plans were made as hypothetical approach. Zeliang further stressed on encouraging entrepreneurship so as to promote local products and wean away people from being crazy for anything foreign made, even if they were third rate items.
A Memorandum of Understanding was signed between the Software Technology Parks of India under the Department of Electronics & Information Technology, Ministry of Communications & Information Technology, Government of India and Department of Information Technology & Communication, Government of Nagaland during the occasion.
The memorandum was signed by R. Omkar Rai Director General STPI and commissioner secretary IT&C, K.D. Vizo.The MoU stressed that establishment of STPI Centre and state-of-the art incubation with BPO/ITES facility initially at Kohima and Dimapur was considered absolutely necessary for the growth of the software industry in this region.
As per one of the clauses in the MoU, the government of Nagaland will provide 18,000 sq ft of built-up space at the new building of the Directorate of IT&C, Kohima (Ground Floor and immediate basement) free of cost within 2 months duration. Regarding the land, Government of Nagaland has committed to provide free of cost 1 acre of land in a commercially viable location in Dimapur suitable for immediate construction of STPI building and l0 acres in Seithekima Dimapur once resources like electricity, water, roads etc. are ready in the said location, both on 60 years lease terms for setting up of STPI Kohima-Dimapur Centre with subsequent renewal on mutual consent.
The Department of Industries and Commerce, Government of Nagaland had already earmarked 1 acre of land in prime location at erstwhile Sugar Mill location in Dimapur for this purpose.
The one day programme was occupied by four sessions where important speeches on key areas like infrastructure, connectivity, software technology parks, technical education, BPO, women empowerment and IT innovators and entrepreneurs were given by expert resource persons from various fields. Delegates from Microsoft, CISCO, IIT, IIM, CIII, NIT, Software Technology Parks of India, Banks and BPOs took part during the occasion.