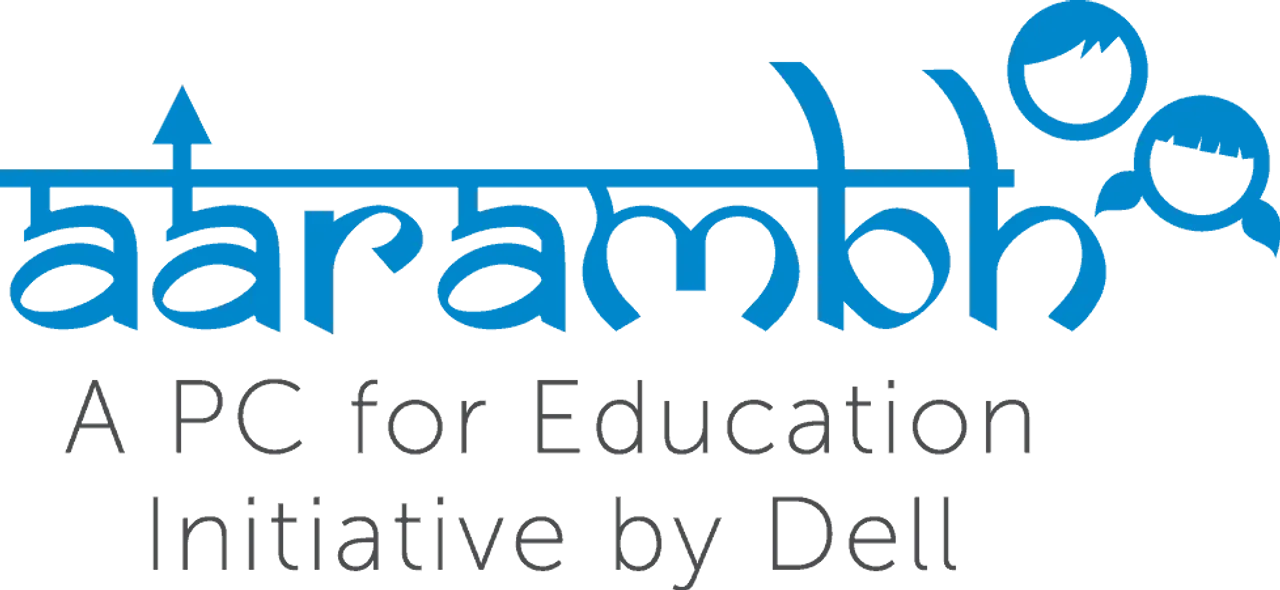 Advocating the purpose of the 'Digital India' campaign by the Government of India, Dell India, powered by the cause of increasing PC access and adoption, in the country, announces the launch of Aarambh – a pan India initiative aimed at spearheading the use of the personal computer (PC) for education. The project is founded on the understanding that exposure to interactive methods of learning in the developmental years, most easily delivered by using a PC, contributes to the well-rounded growth of a student.
Through Aarambh, Dell will engage with three key audiences - students, teachers and parents - in a series of activities meant to build their confidence and familiarity with using the PC. The program aims to enable both parents and teachers to actively aid in the educational development of the child, while using a PC and create an encompassing ecosystem and supportive background for the child. The year-long project aims to reach 1 million students and 1, 00,000 teachers across 5,000 schools; and 2, 00,000 parents in 75 cities across the country. In a larger context, PC adoption can enable the nurturing of digital citizens who will serve as the building blocks for a rapidly developing Digital India.
Reiterating that the current household PC penetration in India has stagnated at anywhere between 9-10% - a number that needs grass root attention; Dell Aarambh aspires to represent the use of PC learning to unlock potential for young students. More importantly, it aims to establish that parents and teachers, who are key influencers in a child's formative years, can aid their overall growth by participating in the adoption of PC technology for learning.
Dell has been working at a grassroots level to grow PC penetration in the country through several strategic initiatives. Dell's 'Go Rural' has been a successful and inclusive program which takes the PC experience in mobile Dell Exclusive Stores to Tier 3 – 4 towns. To gain a deeper understanding on the low rates of household PC penetration, last year Dell commissioned a study conducted by Greyhound Research that revealed the PC's relevance for emerging India. Respondents called out the PC as a key tool for content creation but also presented a dichotomy in not always being owners of the personal computer. Dell's belief in presenting the contribution of a PC in the day to day life of India's future youth and its positive impact in building a truly digital workforce, has laid the foundation towards the conceptualization of Aarambh.
Aarambh, which means "to begin". It is literally the starting point, the first step, of everything. To Dell, Aarambh is the reiteration that a personal computer should be a necessity in a younger age group, and not a choice for these individuals who will be crucial components of a digital-first young workforce. The core idea behind the project is to establish the PC as a gateway to learning by increasing access to knowledge, building upon individual skill-sets and by enabling exposure for students for holistic growth. Dell's effort is driven by the same insight and purpose which is aligned to the government's Digital India and Skill India initiatives which have taken off with great steam.
Speaking at the launch of Aarambh, P. Krishnakumar, Vice President, Consumer & Small Business Dell India said, "Through Aarambh, Dell is leading the cause of accelerating PC adoption in a country where today's students will become tomorrow's workforce. Arming them with new-age skills, enhanced learning and the power of technology, we want to help mold young minds so they are able to find a firm footing in a Digital India. Through the course of Aarambh, we will educate, engage, and empower students along with the two key influencers in their lives – their teachers and parents. We believe these two forces converge to build the personal and professional foundational principles for a young citizen. True to its name, we hope that Aarambh will set a precedent for a nationwide movement to embrace the creative potential of PC technology."
The launch of Aarambh will also see Dell championing the cause against Rote Learning. With a number of activities aimed at raising awareness on the downsides of Rote Learning and showcasing how conceptual learning is more beneficial to children in the long run, Dell aims to explain how PC technology can transform learning for a student. Aside from this, on-ground engagement will be carried out with students, parents and teachers to reiterate the importance of learning by doing, and not by rote learning which has been traditionally established in India.
Ritu Gupta, Director, Marketing, Consumer & Small Business, Dell India said, "Aarambh is our way of saying that the beginning of the journey of becoming technology-aware and technology-enabled is marked by the adoption of the personal computer. Aarambh will build conversations at an individual level, about the role the PC can play in making young minds future ready. Our efforts will be driven towards building engagement through on-ground activities and social media conversations; with students, teachers and parents alike on how to best utilize the technology advantage. We were keen to make sure that the project sees unrestricted access and for this reason have developed the 'Dell Aarambh – PC for Education' website which will act as a knowledge hub through the course of the year."