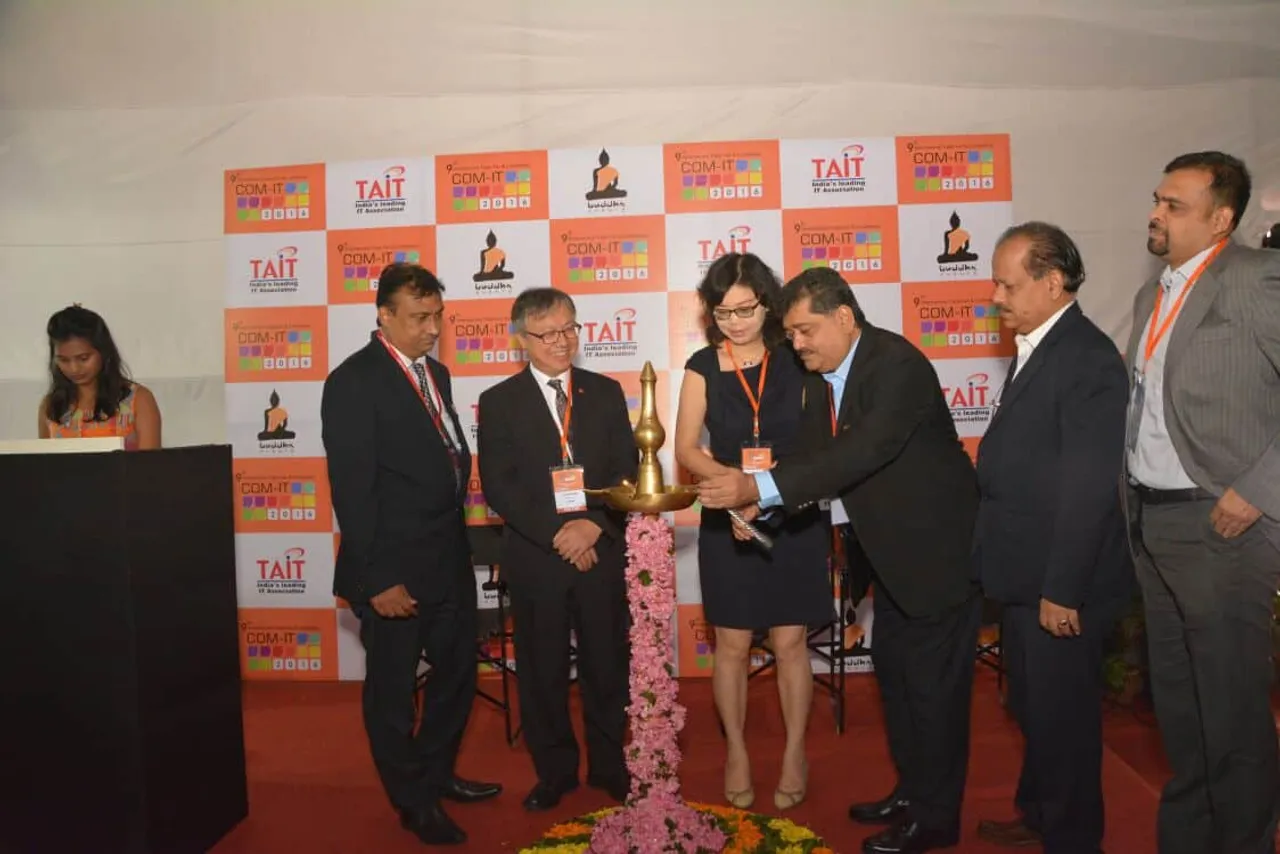 Trade Association of Information Technology (TAIT) successfully hosted the 9th edition of COM-IT Expo in Mumbai bringing in prominent leaders and IT Industry stalwarts under one roof. The expo marked the presence of Yih-Jyh, Kang - Executive Director, Exhibition Department, Taiwan External Trade Development Council (TAITRA).The three-day tech exhibition exhibited the latest technology solutions for the IT, security and mobile industries.
This year TAITRA had set up two Taiwan Excellence Centres to showcase latest technologies and solutions in IoT, AR and intelligent business solutions. Yih-Jyh, Kang - Executive Director, Exhibition Department, TAITRA said, "COM-IT expo always provides a platform to showcase latest technological innovations from Taiwan. We aim to extend our business collaboration with Indian companies by exchanging technological knowledge. I invite all exhibitors present here to COMPUTEX 2017 to showcase their products and solutions."
The event registered participation from more than 60 exhibitors including brands such as Digisol, Kaspersky, Dell, eScan, Canon, D-Link and many more. Nearly 5,000 trade and business visitors, and 15,000 end-users thronged Mumbai's leading IT show, COM-IT Expo over three days.
Champak Raj Gurjar, President, Federation of All India IT Associations (FAIITA) said, "COM-IT is a global platform for the IT, Security and Mobile industries where innovative solutions find their target customers. This expo plays host to a wide base of vendors who have developed products and technologies beneficial to end-users. COM-IT Expo has helped to accelerate growth for many well-established IT firms of Mumbai."
The expo serves as a robust platform for business growth through partnerships, project assessments and market intelligence. It provides a unique networking and marketing platform for both domestic and international industry.
Rushabh Shah, President, TAIT said, "COM-IT is one of the most awaited IT shows in India. Right from inception, it has been regarded as a top quality show to draw leading local and foreign vendors and solution providers. In the past, this platform has been used for a number of product launches and this year too, lots of exciting technologies were on display. The participants found it a very engaging experience as they could address channel partners as well as end-users from a single platform. It is this quality visitor mix which sets us apart."
Long queues of tech geeks were seen at the registration counters marking their interest in the latest technologies. Large numbers of engineering and computer science students were present to gather first-hand industry knowledge and to keep abreast with the latest IT, Security and Mobile marketing techniques. Contests and Quizzes with a number of lucky draws and prizes to be won were held almost every half-hour and the special offers and discounts were well received by the visitors.
Bhavesh K. Ruparel from Siddhivinayak Trading Corporation said, "I am very happy with COM-IT Expo 2016. I would be happy to see even more products in the audio-visual segment next year. I found unique and cost effective technology products and would like to source more products to supply my customers, to fulfill their business, personal productivity and entertainment needs."
Ajay Parekh from Shree Maat Computers said, "I find COM-IT Expo a 'must visit' for all technology lovers as it is an interesting combination where you find international brands and Indian technology under one roof."