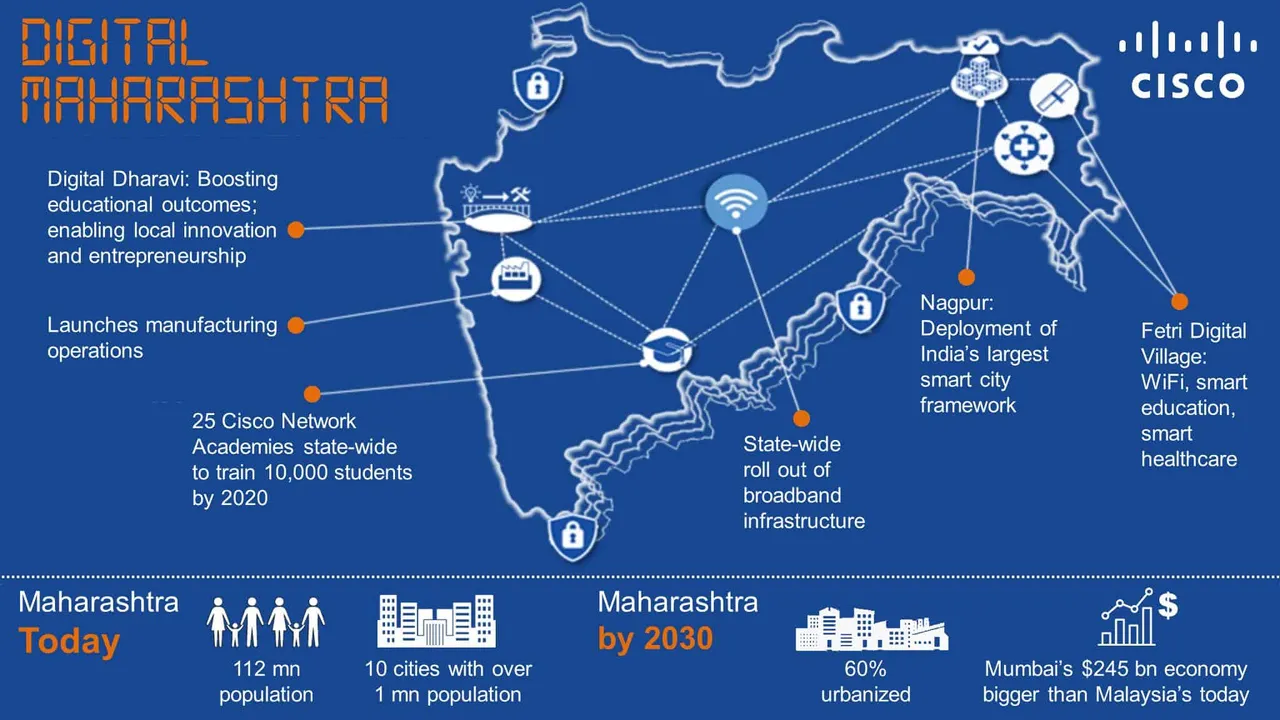 Cisco recently announced the launch of its India manufacturing operations. At the event, Cisco and the Government of Maharashtra (GoM) also announced new local strategic initiatives to help the digital transformation of the state, which includes the citywide deployment of a smart city framework to roll out  Smart City solutions in the city of Nagpur, digital learning for students and skills development for local entrepreneurs in Dharavi to create an eCommerce hub, expansion of the Cisco Networking Academy program, and digital education and healthcare initiatives in Fetri village.
The launch of the manufacturing operations took place in the presence of Chief Minister of Maharashtra, Devendra Fadnavis; the CEO of the National Institution for Transforming India (NITI) Aayog, Amitabh Kant; Aruna Sundararajan, Secretary, Ministry of Electronics and Information Technology, Government of India; Cisco CEO Chuck Robbins; Irving Tan, Senior Vice President, Cisco Asia Pacific and Japan; Dinesh Malkani, President, Cisco India & SAARC; and Jun Kim, Vice President, Cisco Supply Chain Operations.
Cisco to manufacture diverse product portfolio to support the Make in India initiative
Cisco will manufacture and roll out a diverse product portfolio in India to support the government's Make in India initiative. Cisco will use its India manufacturing operations to produce and ship orders for customers in India, as well as for testing, development, logistics, and in-house repair capabilities.
Cisco also announced its ongoing commitment to accelerate Digital Maharashtra, including several initiatives to ensure that all of India's citizens benefit from the power of connectivity. These initiatives include:
Nagpur: India's First CityWide Deployment of a Smart City Framework enabled by Cisco City Digital Platform
Cisco will roll out Smart City Solutions in Nagpur to enable city-wide network connectivity, Smart & Secure Wi-Fi hotspots, and Smart safety & surveillance solutions. The various citizen services enabled by smart cities architecture, like smart transport, solid waste management, smart lighting, environmental sensors, and smart parking, will be integrated on Cisco's City Digital Platform. The City Operations Centre will have a single view of all solutions to manage the city with increased operational efficiency and productivity, enabling them to provide quality infrastructure and services to citizens.
Dharavi eCommerce Hub: Bringing Digital Learning and Connectivity to Students and Skills Development for Local Entrepreneurs
At the ceremony Cisco showcased how it was helping digitize Sri Ganesh Vidya Mandir High School by providing the students with a virtual classroom, digital learning and highly secure Internet connectivity. Cisco's initiative aims to enhance the quality of education through digital learning for academia to connect, collaborate, create and share content with students. After school hours, local entrepreneurs and start-ups will be able to use the school as a platform for local innovation and help make Dharavi an e-commerce hub.
Expansion of Cisco Networking Academy Program to Support Skill India and Increase Maharashtra's Pool of Highly Trained Professionals
As part of Cisco's commitment to accelerating Digital Maharashtra and supporting the Maharashtra State Education Digitization agenda, the company announced plans to establish up to 25 Cisco Networking Academies to train approximately 10,000 students in Maharashtra by 2020. The Cisco Networking Academy program in India has one of the largest programs for Cisco worldwide. Across 186 academies, nationwide, more than 122,000 students have been trained since its inception. The skills-development program is a cloud-delivered, scalable, high-quality program that helps students learn how to design, build, secure and maintain computer networks and prepare for jobs in the digital economy.
Wi-Fi, Smart Education and Smart Healthcare to Digitize Fetri Village
Underlining its commitment to the digital transformation of Maharashtra, Cisco announced a new initiative to digitize Fetri village in the Kato Tehsil of Nagpur district in Maharashtra. With the intention to build a Digital Village, Cisco will deploy key technologies including Wi-Fi, smart healthcare, and smart education in an upper primary government school in Fetri. At the ceremony today Cisco demonstrated how its India manufactured products will play an integral role in Digital India by providing high performance wireless connectivity to get access to quality education. Cisco also demonstrated how patients can be connected with doctors conveniently and efficiently, regardless of distance, through highly secure immersive visual experiences.
Cisco to Collaborate on the Rollout of Broadband Infrastructure
As part of its commitment to help the state realize its vision of Digital Maharashtra, Cisco will collaborate on the state-wide rollout of broadband infrastructure to accelerate the Digital Maharashtra vision. A role model on digital transformation for other states, Maharashtra sees the building of digital infrastructure as the most crucial step toward achieving its vision of a Digital Maharashtra and enabling financial inclusion, e-governance and citizen services.
Chuck Robbins, CEO, Cisco, said, "Digitization opens up unprecedented opportunities for every country, state and city. High technology manufacturing is convergence of engineering and science. India offers a huge talent pool of highly qualified scientists, engineers and designers along with ease of doing business, geographic location, and proximity to suppliers and customers. Today's announcement reaffirms Cisco's long-term commitment to India, a strategic center of country digitization and innovation. We are honored to work with the people of India to accelerate their digital economy, and help further the government's vision to create sustainable competitiveness and prosperity."
Devendra Fadnavis, Chief Minister, Maharashtra, said, "Digital transformation has emerged as the most transformative means to ignite sustainable growth and improve society. Digitization creates economic competitiveness, enables ease of doing business, improves public services, increases GDP, creates employment, and enhances the quality of life of citizens. My vision for digital Maharashtra is to digitally empower every citizen, increase the state's global competitiveness by creating a highly skilled workforce ready for the jobs of the future, build an environment that stimulates exceptional companies, and enable outstanding public services for citizens. We are happy to partner with Cisco in the Digital Maharashtra initiative and we believe Cisco's global experience and expertise in digitization will benefit Maharashtra immensely and accelerate the digitization of the state."