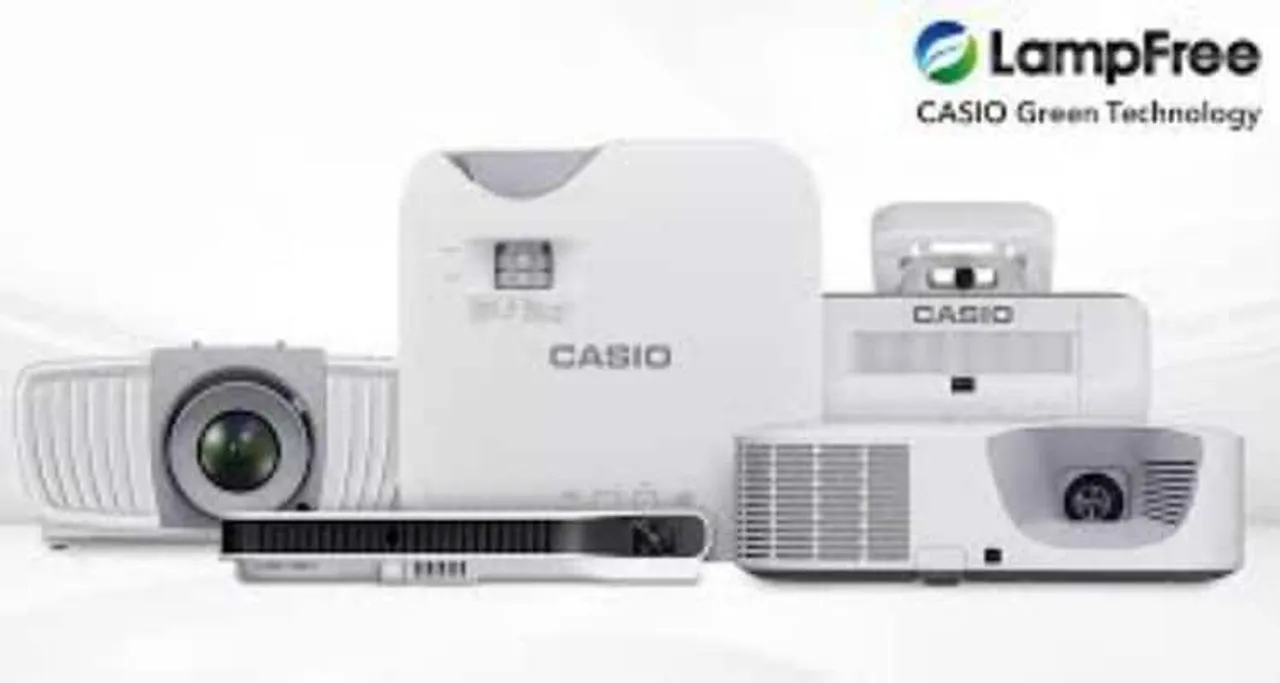 Casio India is presenting its LampFreeR Green Technology projectors. These projectors have instant start up and shut down process, reduced overall cost and size, lesser maintenance due to its dust resistance design and minimal labour for trouble shooting requirement.
Casio offers several LampFree projectors that meet all TCO Certified life cycle criteria for socially responsible manufacturing, energy efficiency, picture quality and lower environmental impact.
LampFree projectors also have a dust resistant design that is achieved by structuring the internal components into separate blocks and shields the optical block from dust and suppresses dust intrusion. This helps ensure that dust does not lower projection brightness, helping it to maintain optimal performance for the life of the unit and eliminating the need and cost of replacing filters.
The Casio Lampfree Projectors offer the following 5 series:
Advanced and Core Series
Projectors in these series feature a 20,000-hour estimated operating life and can reach full brightness in as fast as five seconds from the time they are powered thanks to Casio's innovative Quick Start technology. They also feature a 1.5X zoom lens for optimal flexibility in projector placement.
Ultra-Short Throw Series
Casio's latest addition to its Ultra Short Throw series is the XJ-UT311WN which can project brilliant shadow-free, crisp, images at close range with its built-in 0.28:1 fixed lens. It produces 3,100 lumens of brightness and boasts WXGA (1280 x 800) resolution with a 20,000:1 contrast ratio, which is ideal for displaying HD content from video and computer sources. Network (RJ-45) and local RS-232 connections provide control and remote status monitoring capabilities and a wireless presentation adaptor is included.
SLIM Series
Weighing in at just 2.25 kilogram, Casio's SLIM projectors are only 1.7 inches thick, require little to no setup time, and provide projection at maximum brightness in as few as eight seconds. Casio's SLIM projectors offer an estimated 20,000-hour lifespan with minimal brightness degradation, which far outshines that of conventional projectors that require expensive mercury lamp replacements. The slim sleek design works well in retail environments where space is limited and continuous operation is needed.
Ultra HD series 
This projector comes equipped with a Lens Shift function to correct projector positioning and a super resolution feature that enhances the signal of low-resolution movies and images to produce the effect of higher resolution. It projects in 4K resolution, reproducing the true colour and beauty of images at a much higher level than conventional projectors with its high brightness of 5,000 lumens.
The price of these LampFree Projectors starts at INR 54,995 onwards.