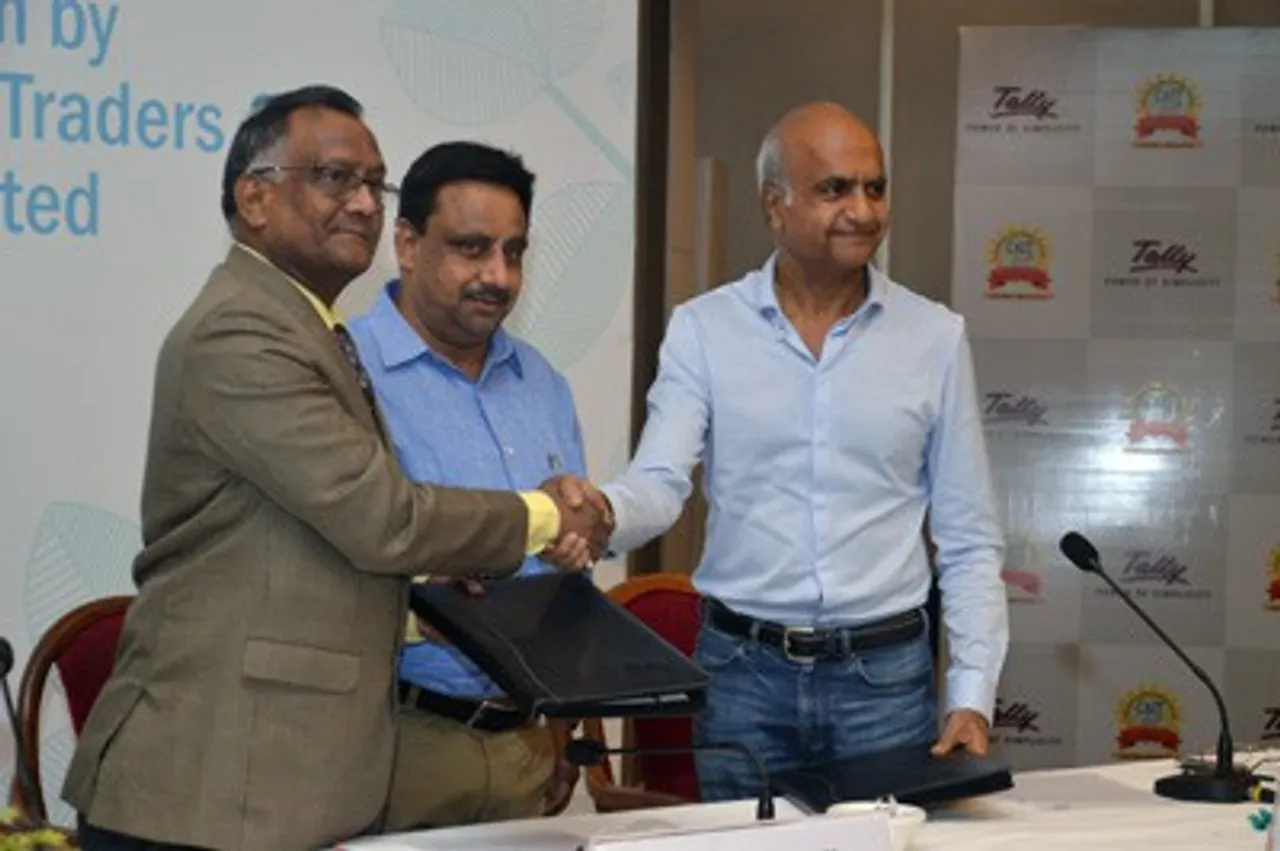 In a bid to train and educate the trading community on GST compliance and its seamless adoption, the Confederation of All India Traders (CAIT), in association with Tally Solutions Private. Limited (TSPL), India based software product company, are all set to launch a nationwide campaign to help traders across the Country, understand the impact of GST on their business.
This collaboration is with the aim to raise awareness of the procedural compliance under the new taxation system and how traders can embrace technology for easy compliance of GST. GST is a technology led taxation system with an inbuilt e-compliance fundamental in its design. However, majority of the country's trading community are yet to adopt computerisation for maintaining books and filing tax. In this light, the joint initiative of CAIT and Tally Solutions to spread GST awareness, with proper adoption of technology is a significant step in the successful adoption of GST in India in trading community and non corporate sector of the Country.
At a Press Conference held recently at New Delhi, CAIT National President B.C.Bhartia and Secretary General Praveen Khandelwal, while announcing CAIT's partnership with Tally Solutions said that the GST taxation system is entirely different from current taxation system. It will lead to the merger of Excise, Service Tax, VAT and other taxes under GST, coupled with its e-compliance in totality; it is all the more necessary to equip the traders and other verticals of non corporate sector with adequate knowledge about the procedures and compliance formalities under GST. CAIT has join hands with Tally Solutions to impart technology knowledge in this joint initiative and intends to empower and equip the trading community about importance and acceptance of digital technologies, which is expected to drive future course of small & medium sized businesses in India.
Both Bhartia and Khandelwal said that future mode of business in the Country will largely be conducted through electronic payments and with introduction of GST; the tax will be deposited through either credit card/debit card, NEFT or RTGS only. There will be no Cash or Cheque and tax returns, claiming of input credit, communication between traders and tax department and other incidental activities, all activities will be conducted digitally. Therefore, it is imperative that the traders and other sectors adopt technology and understand procedures of compliance. At a time when the Government is moving towards e-governance, the businesses cannot remain aloof from technology.
Speaking at the conference, the MD of Tally Solutions, Bharat Goenka said "In the last 30 years, we at Tally have been proud of building the simplest and most advanced technology solutions to help traders across the country grow their businesses. And with GST, the need for such tools becomes critical for businesses to adopt. It is our duty to help such businesses transition smoothly, and with this partnership, we believe we will be able to reach out to trading community at large and help educate them on the law, its implications, and how they can transition smoothly with the necessary technology tools."
In their joint campaign, CAIT and Tally Solutions, would be reaching out to over thousands of trade associations, Federations & Chambers across the Country and will also involve national organisations of different verticals from the non-corporate sector. The idea is to train Master Trainers countrywide who in turn will train traders in their respective states. CAIT and Tally Solutions plan to conduct their first GST Conferences across tier 1 and tier 2 cities in India, gradually spanning to cover even the smallest hubs. The partnership will aim to educate and train the trading community of India on implications of the new law on their respective businesses and help members understand the importance of technology adoption in this new era.