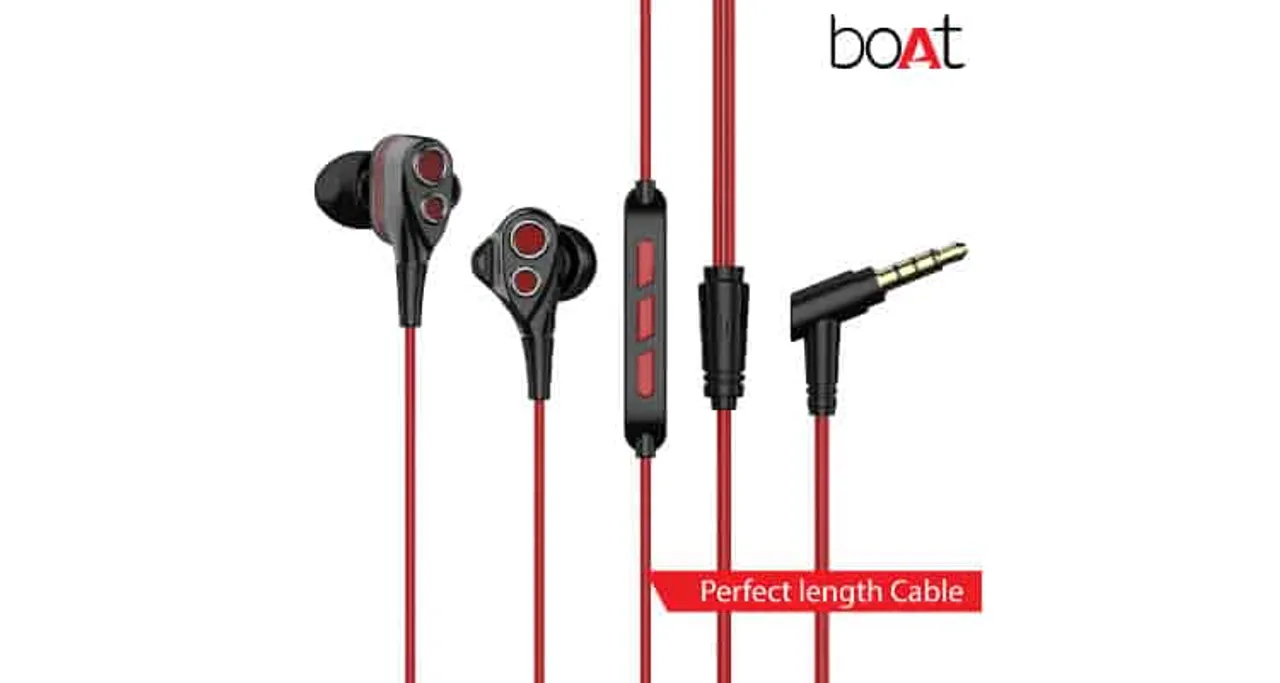 boAt lifestyle announces the the launch of NIRVANAATRES, a triple driver earphone with High Definition audio, deep bass sound and an In-line microphone it is being touted by the company as a flagship killer in this category with the sleekest design of the year at the most competitive price.
boAt NIRVANAA TRES is engineered impeccably to deliver authentic sound. Designed for the music lovers and audiophiles, the boAt NIRVANAA TRES comes with an amazing commixture of style with performance.
Having two dynamic drivers & one balanced armature driver is like having a high-end surround sound system in your ears. boAt NIRVANAA TRES is acoustically balanced with dual 6mm*2 dynamic & one balanced armature driver on each ear mould. The HD drivers enable the earphone to deliver a natural soundstage & rhythmic response at a wide Frequency range of 20Hz - 20KHz.
boat NIRVANAA TRES has a gleaming ergonomic LIGHTWEIGHT design which enables for easy adjustment and optimal wearing experience while providing a comfort fit for your ears. Machined out of premium components, the boAt NIRVANAA TRES embodies ultimate durability packaged in a lightweight, comfortable form factor and thus is easily portable. The material used to manufacture these earphones ensures its longevity.
boAt NIRVANAA TRES Triple Driver Earphones with Microphone features a noise-cancelling microphone which enables trouble free receiving of calls and undeterred sessions of musical extravaganza.   The earphones come with integrated controls to allow you for easy swift functioning. Easily take calls and manage your music on any smart device. Now you can adjust volumes, pause/play, change tracks, and even answer calls with integrated controls on board making the boAt NIRVANAA TRES an extremely user-friendly ear piece.
boAt NIRVANAA TRES comes with an amazing amalgamation of style with protection. To ensure additional protection from the threat of corrosion, tear or damage, boAt NIRVANAA TRES comes with layers of superior tough wire coating. While the earphones are extremely user-friendly & stylish, extruding premium coating onto wire cable is a manufacturing process that the company is performing and refining since its inception. It features a tangle-free premium cable designed to keep your cable free from knots and the perfect length cable will let you move your head around, while using these earphones on the go.
The price of the product is 3990/- INR. The product carry's a 1 year warranty and is available at Amazon.in.
Product Specifications:
Construction: Two 6mm drivers with one balanced armature driver
Driver Size: 6mm.x 2 Drivers + 1 balanced armature driver (3 drivers)
Total Harmonic Distortion: ≤3%
Microphone: yes
Mic Frequency: 20-20KHZ
Button for Microphone: no
Plug:3.5mm
Compatibility: Android and iPhone
Frequency:  20-20KHz
Speaker resistance:32Ω
Sensitivity: 97± 3dB
Signal Noise Ratio:90db
MIC. Sensitivity: (-42) ±3db