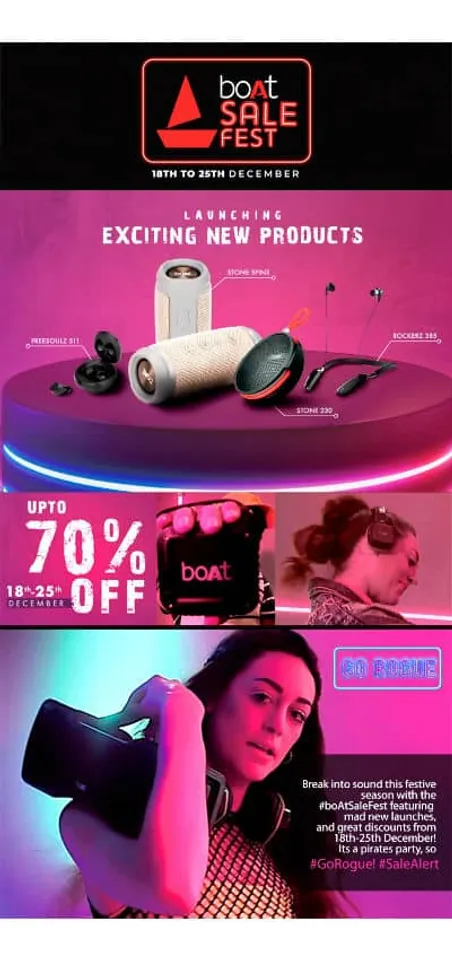 boAt is all set for 'boAt Sale Fest'. The sale, which starts on December 18, brings discounts and offers on all boAt products along with several new launches and contests every hour all week. The seven-day long shopping festival will have some attractive deals on various products including the Rockerz, Stone and Aavante series.
boAt is targeted to tech-savvy consumers, mostly millennials, looking for stylish and quality products that are affordable too. It has already created a community of over 1,000,000 boAtheads (consumers) who want to be seen listening and wearing their boAt accessories to make a lifestyle statement.
The sale will kick start from December 18 – December 25 exclusively on Amazon India. Keep an eye on the official website to keep up with the latest launches and deals.
| | | |
| --- | --- | --- |
| Date | Name of the Day | Theme |
| 18th - 25th Dec | Base offer on week | Deals on all boAt products with new launches and contests every hour all 7 days. Christmas is early this year |
| 18th Dec - Tuesday | boAt Sport | For all you fitness freaks, the new Rockerz 261 & Rockerz 262 and Rockerz  315 are here. |
| 19th Dec - Wednesday | boAt Adventure | Carry your sound with the new Stone 230 and Stone SpinX |
| 20th Dec - Thursday | boAt Lifestyle | Make a statement with new Rockerz 385, Rockerz 325 and 225 wireless |
| 21st Dec - Friday | boAt Home Audio | Check out our new Home Audio range- AAVANTE 5, 10 & 15, and Aavante Bar |
| 22nd Dec - Saturday | Wireless Day | Grab your favourite wireless headphone with big discounts on Rockerz 510, Rockerz 430 and the new boAt 900 Wireless |
| 23rd Dec - Sunday | FreesoulZ Day | The First ever truewireless earphone from boAt the FreeSoulZ 511 is here |
| 24th Dec - Monday | Nirvana Day | Plug into Nirvana with Exclusive deals on Nirvana Deuce, Tres and Bliss |
| 25th Dec - Tuesday | Christmas boAt Sale Fest | The perfect day to become a boAthead with discount on all products |
On the fest, boAt co-founder Aman Gupta said, "Our products have consistently performed on Amazon and we are grateful to them for establishing a week long fest with such a young brandike us.  We are also grateful to boAt fans and our customers who have helped us reach this milestone. We continue to boost our product line-up and have introduced a range of innovative products that caters specifically to how the Indian consumer wants to listen to music. We strongly believe boAt has all the right mix to scale and become a global brand in the coming years."