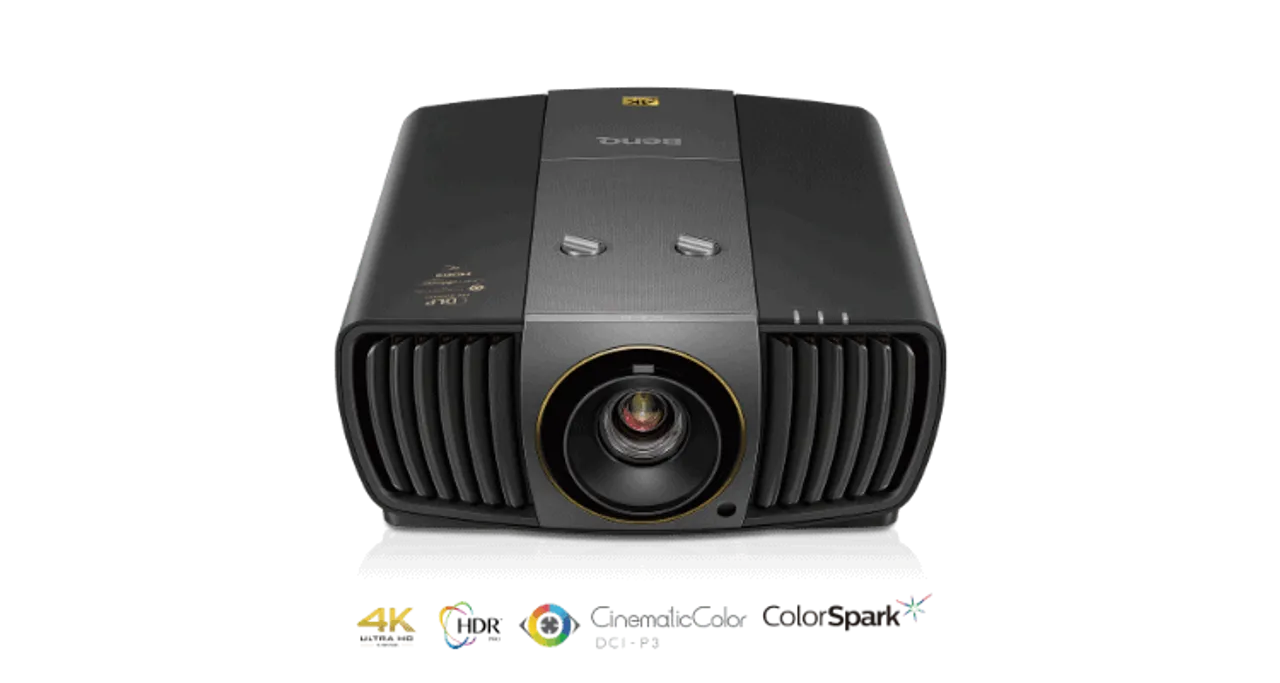 BenQ introduced the ultimate digital home cinema projector X12000H, a successor of its flagship X12000 projector. Designed to enjoy theater-like image quality, the new X12000H delivers ultra-impressive images through the exclusive CimenaticColor technology, which utilizes optimal colors to achieve super wide DCI-P3 color space and contrast quality with over 8.3 million razor-sharp pixels. A true 4K UHD projector, X12000H utilizes DLP 4K UHD DMD's 4.15 million micro-mirrors and the fast switching speed as well as the advanced image processing capability of the DLP 4K UHD chipset to achieve CTA's 4K UHD specification facilitating an unforgettable viewing experience that guarantees to leave strong impressions on audiences.
"Over the years, BenQ's projectors have earned the distinct position of being consistent best performers along with occupying the top slot in DLP Projectors for 8 years running.  With the latest projector, they have gone one step further to revolutionize and popularize the 4K Home Cinema projectors as an integral part of everyone's home cinema viewing experience. Our X12000H will turn any room into a world-class home theater with video-enhancing technologies, ensuring that even the most critical movie enthusiasts will be satisfied, said Rajeev Singh, Managing Director, BenQ India."
Key features of BenQ X12000H include:
High Precision 14-Element 6-Group Lens Array Guarantees Stable Image Quality
The super-high resolution 14-element lens array is structured into six groups with a metal barrel and cell framework, far outshining 1080p projector technology with greater light penetration for long-lasting 4K intensity and heart-stopping color performance, clarity, as well as sharpness across the entire screen.
Hyper-Realistic Video Quality with HDR-PRO
HDR-PROTM , as BenQ's exclusive projector-optimized HDR technology, supercharged by both HDR10 and HLG support and equipped with BenQ's exclusive Auto HDR Color Rendition and Cinema-Optimized technology, offers greater brightness, contrast range, and image optimization in a single step, bringing out every detail in 4K video content for superior cinematic enjoyment.
DCI-P3 Color Rivaling Digital Cinemas
X12000H combines ColorSpark HLD LEDs and proprietary BenQ CinematicColor Technology to reach American film industry's super wide DCI-P3 color space, covering far greater visible spectrum than Rec. 709. With DCI-P3, X12000H perfectly reproduces authentic cinematic quality with both high brightness and precise color accuracy as how the directors have originally envisioned.
Perfectly Balance Brightness and Color
X12000H's exclusive CinematicColor Technology harnesses wider color gamut and higher brightness ColorSpark HLD LEDs to produce the expansive DCI-P3 color gamut which equals the high standards of commercial digital cinema, striking a perfect balance between high brightness and cinematic color.
CinemaMaster Video+ for Majestic Scenes
CinemaMaster Video+ turns any room into a world-class home theater with video-enhancing technologies, ensuring that even the most critical movie enthusiasts will be satisfied.
Immaculate True Zoom
With the ability to adjust focus automatically regardless of screen size variations, X12000H's True Zoom system adjusts automatically to follow focus adjustments, optimizing the zoom ratio to deliver visually perfect focus without blemish. The three focusing lens groups adjust simultaneously with the zoom lens group to negate any curved field for immaculate cinematic performance and high-precision clarity at every corner of the image.
The projector is priced at Rs 5 lakhs and is being showcased for the first time in India at the What Hi-Fi Show, in Bangalore from August 31- September 02, 2018.