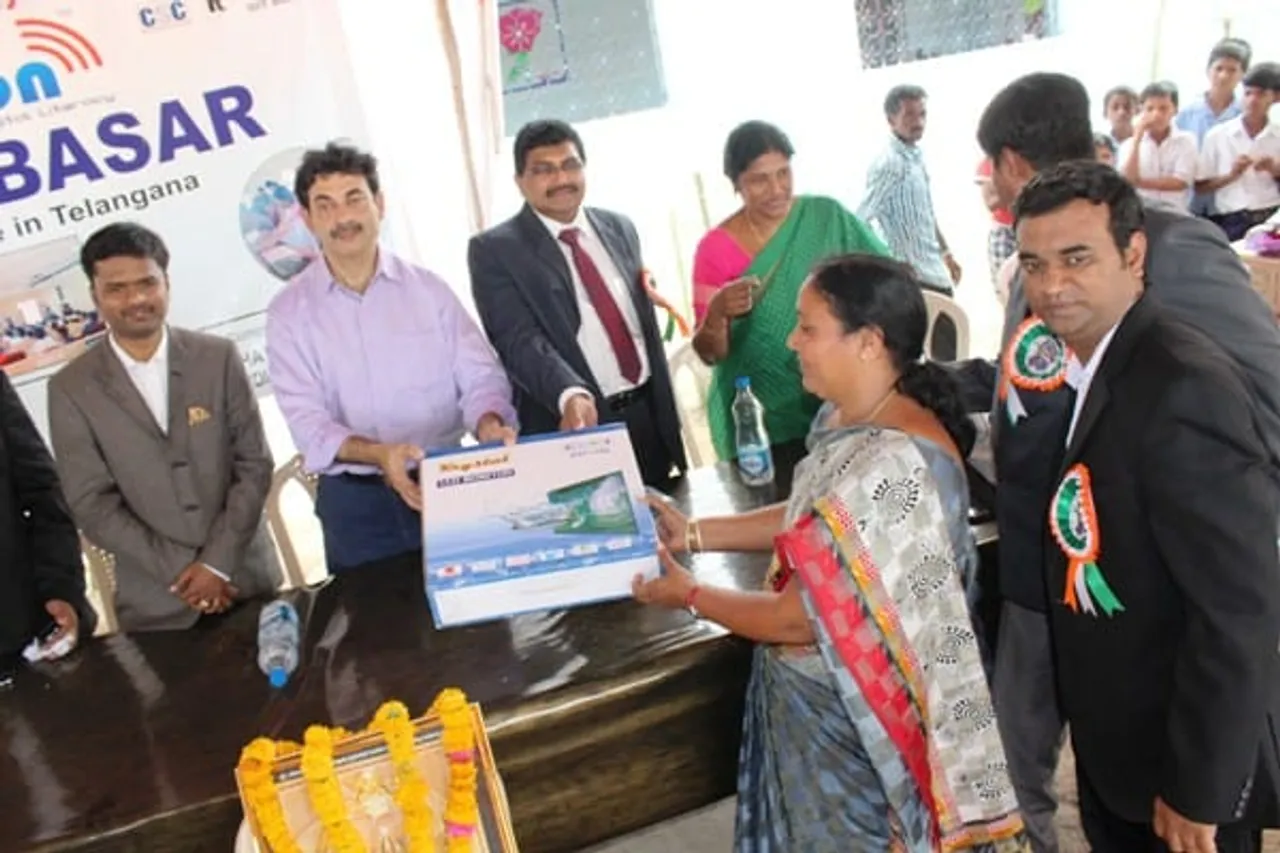 Basar has become the first Digitally Literate village in the state of Telangana. The state IT Secretary Jayesh Ranjan officially declared Basar as first digital village.
Telangana Information Technology Association (TITA) in association with IIIT- Basar recently completed the mission of digitizing the Basar. Appreciating the efforts of TITA and IIIT- Basar, the IT secretary said that that this was a remarkable landmark and requested IT professionals and NRI's to adopt a village and transform it into Digitally literate village. The IT secretary on behalf of Telangana Government also donated 4 Computers to Basar Panchayat office.
Basar was adopted by TITA and IIIT - Basar on 17th Dec 2015, under the banner of 'Digithon'. The aim of this mission is to teach at least one person in every house hold and make the village Digitally Literate. TITA adopted the "Train-the-trainers" model to accomplish this mission and trained and certified more than 650 IIIT Digithon Certified Trainers called as 'Digital leaders'. In this, 200 Digital Leaders were selected for Digital Basar project.
These digital leaders conducted household survey in the entire village and identified 475 Digital illiterate households. Sessions were conducted across 7 Sundays starting from 3rd Jan 2016 till 14th Feb 2016 to literate the village. This mission has been successfully completed by imparting training and certifying these 475 digital illiterates, thus bestowing Basar village a remarkable achievement of "First Digital Literate Village" in Telangana State.
"Digital Basar is a unique Digital Literacy model in the country where TITA, IIIT Basara Digital Leaders trained the Basara Villagers on Digital Literacy program under guidance of NDLM for 7 weeks and as a result the villagers are now digitally literates and they know how to communicate using Internet and also ready to avail online services. If other Institutions can also come forward, this model can empower many more citizens in rural areas on Digital Literacy. Every educational institution should think in these lines and we may call it 'College Social Responsibility'." said Raja Kishore, Vice President - Common Services Centres (CSC) SPV.