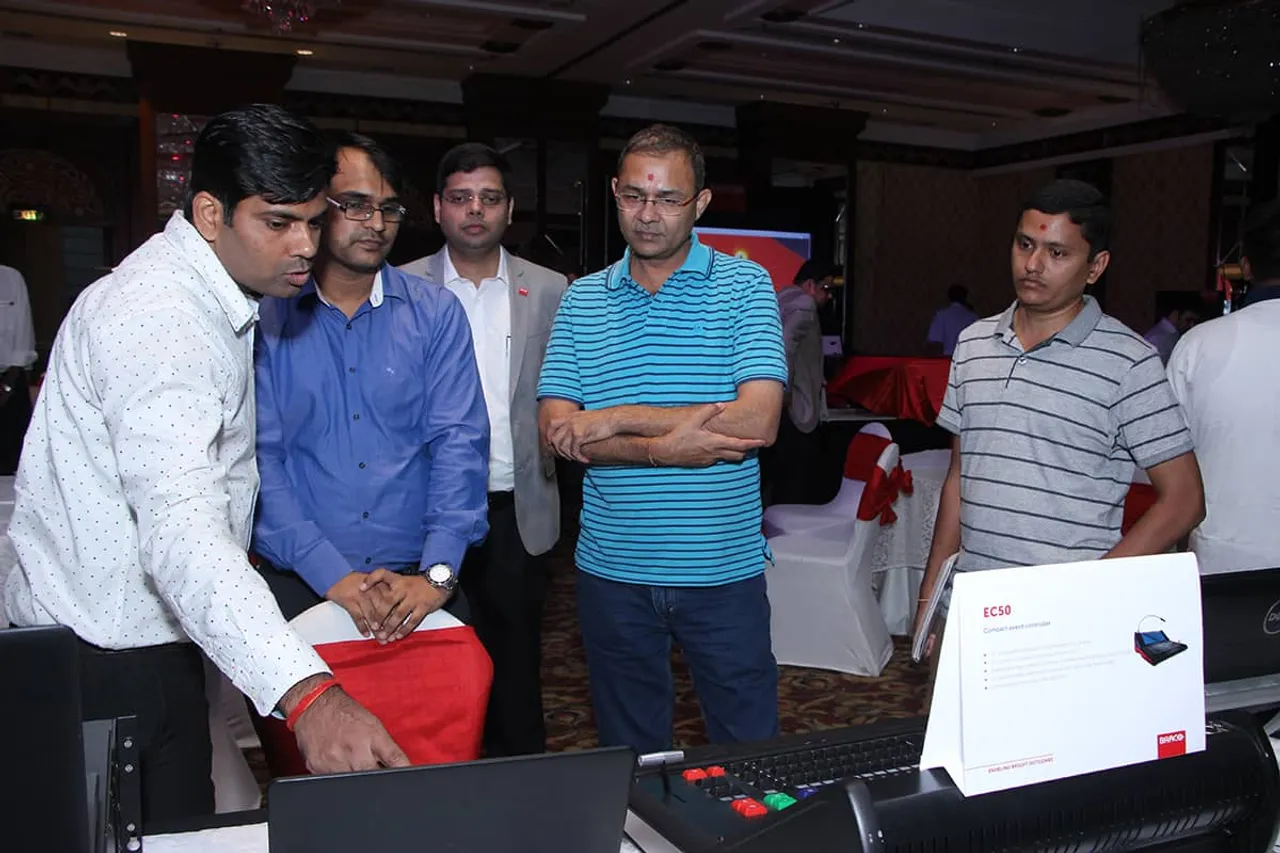 Barco recently organised a partner event in New Delhi to showcase latest developments in projection technology. The event was attended by a confluence of over 80 leading AV system integrators, AV consultants, and regional distributors, who got a glimpse of the future of projection.
Barco's flagship product UDX-4K32 was the cynosure at the event, as it reflected the brand's prowess in providing high-brightness, high-resolution projectors incorporating the use of laser for illumination.
Built on Barco's brand new UDX platform, the UDX-4K32 is the most compact high-brightness laser projector in the market. The 3-chip DLP laser phosphor large venue projector offers unmatched colour reproduction and exceptional brightness (of up to 31,000 lumens), as well as enhanced utilisation thanks to flexible brightness and resolution.
In addition to enabling exceptional performance and stunning experiences, it delivers best-in-class 4K UHD processing without image quality loss and with extremely low latency through Barco Pulse. The UDX-4K32 is ruggedly designed for 24/7 operations, high reliability, and long lifetimes (up to 20,000 hours), and enables the lowest Total Cost of Ownership (TCO) for business owners. The ProAV event also showcased Barco's superior capabilities in specialised applications such as simulation and virtual reality through its laser-driven F90 projector, reaffirming the Barco commitment to bringing its customers the latest and the best in projection technology.
The evening also saw the audience experience the powerful image processing capability of Barco E2, a rugged and full-featured 4K event controller offering seamless image processing that can be used for displays having a pixel density of 80. The audience was treated with various scenarios that were created in real-time, basis the inputs received onsite. The power-packed performance, ease-of-use, and flexibility of deployment showcased  Barco prowess in visualisation and underlined E2's suitability for a wide variety of application scenarios such as auditoriums, live concerts, corporate events etc.
In addition, Barco showcased ClickShare, its award-winning and industry-leading solution that makes collaboration a natural instinct. A platform-neutral device, ClickShare enables users to share and collaborate with one another using standard computing devices like laptops, as well as smartphones and tablets, across multiple operating systems. The ClickShare session allowed attendees to experience the ease with which data can be shared using personal devices like phones, tablets, laptops, etc. that are increasingly being used by organisations for enterprise-wide BYOD (Bring Your Own Device)deployment.
Ramya Chatterjee, Director Sales Barco Electronic Systems, India, said, "The ProAV meet was an endeavour to showcase our state-of-the-art offerings that enhance profitability of our existing and potential business partners. The success of the event underlines Barco's domain leadership in India and its vision to redefine the country's visualisation and projection landscape with futuristic technologies."
Motivated by the success of the ProAV partner meet, Barco plans to organise similar events in other cities and spread awareness about the benefits of its projection and image processing technologies, which offer comprehensive capabilities in a single solution.