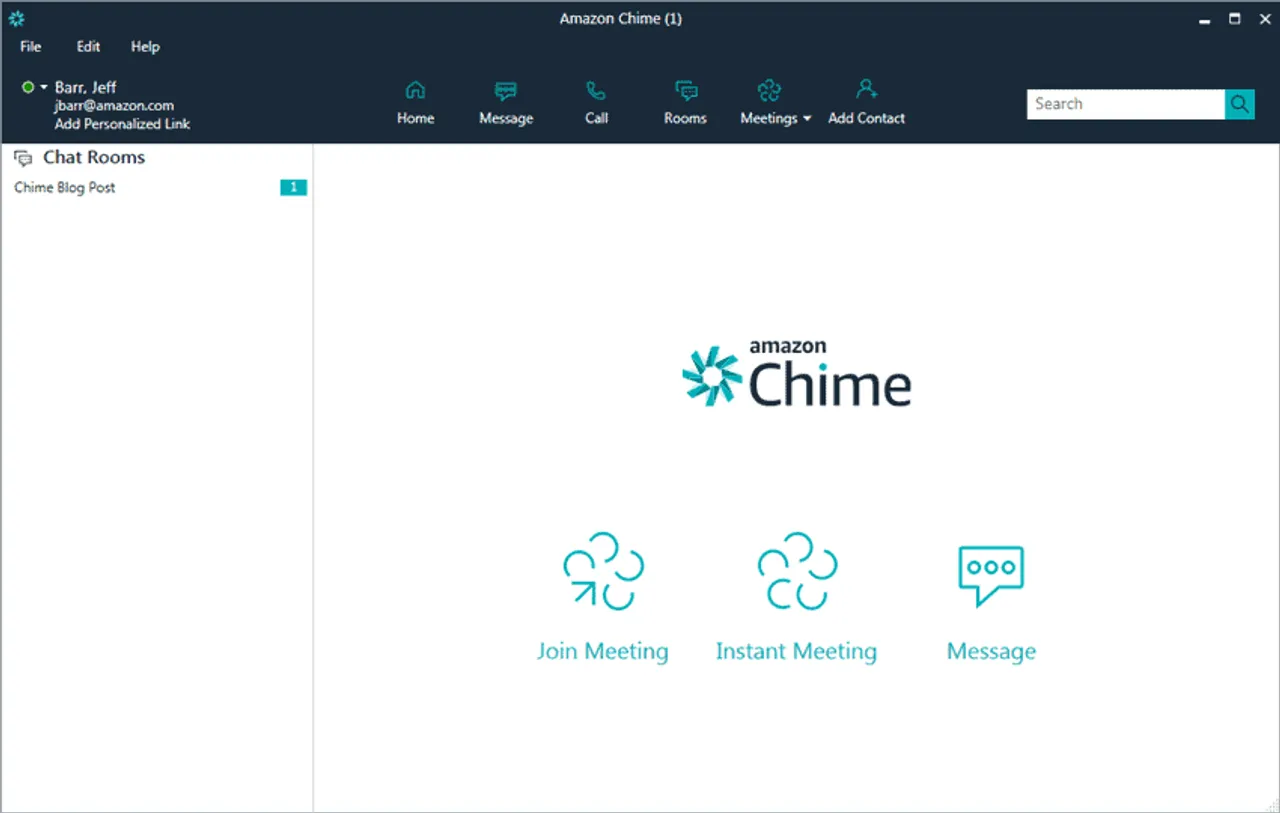 Amazon Web Services, Inc., an Amazon.com company, recently announced Amazon Chime, a new unified communications service that makes meetings easier and more efficient than ever before. With Amazon Chime, customers can start high-quality video and audio meetings with one-click, allowing customers to host or join a meeting, chat, and share content and screens with a seamless, synchronized experience across desktops, iOS, and Android devices.
In a world where meeting attendees are often not in the same city, much less the same office building, unified communications has become increasingly more important. Arguably the most prevalent form of unified communications is meetings. Most meetings solutions are disappointing. They're clunky and hard to use, the video is grainy and disconnects frequently, the audio quality is poor, there's constant background noise and it's impossible to know who's causing it, they require long PINs to enter and join a call, and have second-rate mobile features and apps. Further, most are only good at one thing (e.g. voice calls, video conferencing, screen sharing, or instant messaging), so users often have to toggle between several different tools, none of which really solve their problem.
Amazon Chime takes frustration out of meetings, delivering very high quality video, voice, chat, and screen sharing. Amazon Chime calls all participants when a meeting starts so joining a meeting is as easy as clicking a button in the app, no PIN required. When there's noise on calls (think about how often somebody has to say things like "could you please stop typing so close to the speaker") or somebody joins or drops mid-call, there's no longer mystery who it is as Amazon Chime shows a visual roster of all attendees. And, any attendee has the power to put an end to background noise by muting any noisy line. Amazon Chime offers strong mobile and desktop apps, and keeps meetings and chats synchronized across devices, so users can join meetings from anywhere via Android, iOS, Mac, and Windows apps (and seamlessly switch from mobile to desktop, or app to app whenever needed). Amazon Chime can be integrated with existing corporate directories, and provides IT administrators the ability to manage identities and control access across an organization. Amazon Chime requires no upfront investments, complicated deployment, or ongoing maintenance – customers can simply download the application and get started using the service in minutes. And Amazon Chime is one-third the cost of traditional solutions.
"It's pretty hard to find people who actually like the technology they use for meetings today. Most meeting applications or services are hard to use, deliver bad audio and video, require constant switching between multiple tools to do everything they want, and are way too expensive," said Gene Farrell, Vice President, Enterprise Applications, AWS. "Amazon Chime delivers frustration-free meetings, allowing users to be productive from anywhere. And with no ongoing maintenance or management fees, Amazon Chime is a great choice for companies that are looking for a solution to meetings that their employees will love to use."