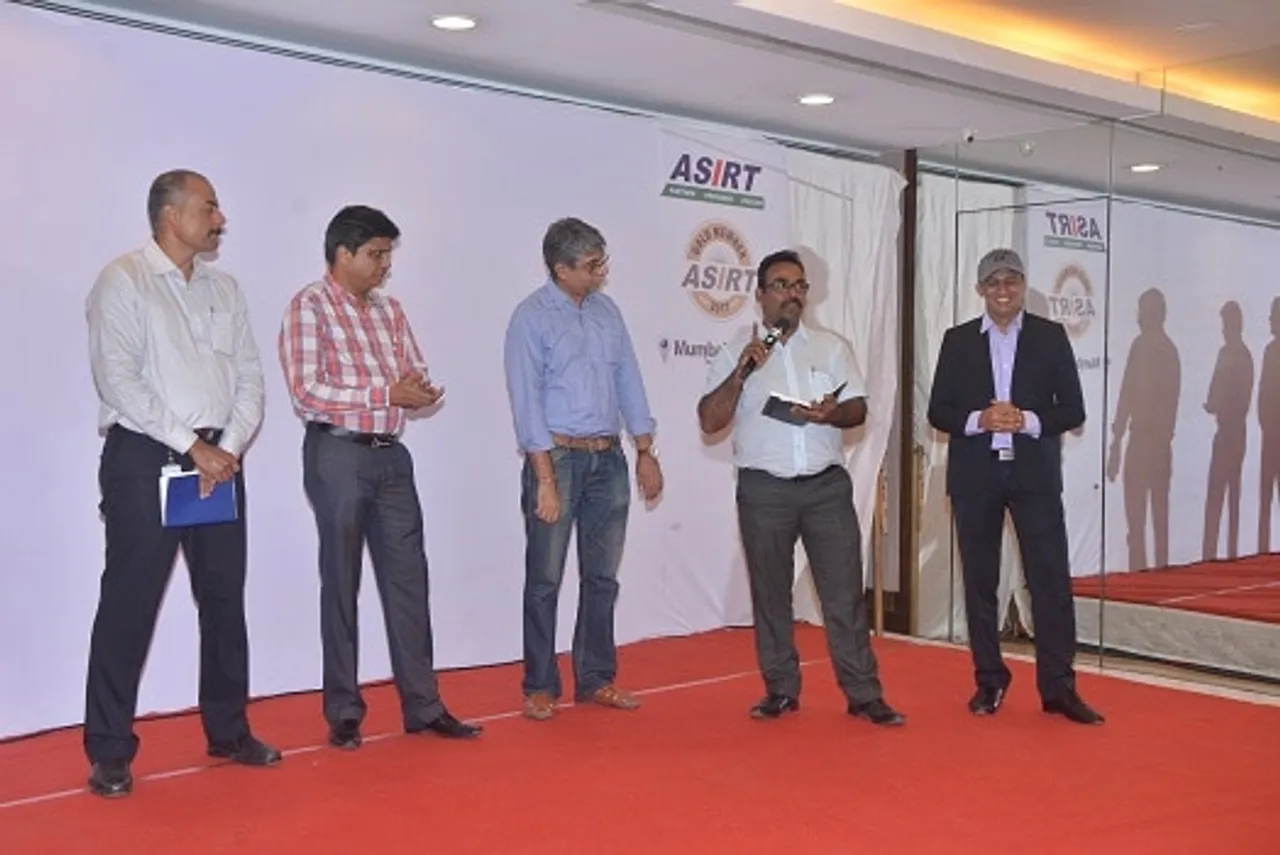 The ASIRT, as part of its monthly activities, hosted a tech day at the Interlink Banquets, Vidyavihar, Mumbai on Friday, 27th October. In line with the association's objective to offer significant business opportunities to partner members, Tata Teleservices, ACCOPS and Shree Maat Computers were invited to share their offerings with the members. The key highlight of the evening, however, was the live musical performance by singer and performer Raj Kapadia that got the guests grooving!
Being the first meeting post the festive season, the celebratory cheer was evident in the air as members from all across Mumbai and some even from as far as Ahmedabad, gathered at the venue. The event began with sponsor presentations by Ajay Parekh, CEO of Shree Maat Computers, followed by Narendra Joshi, Deputy GM – Enterprise Business, Tata Teleservices Ltd., and concluded by Mohan Bhat, Co-Founder & MD of ACCOPS. The presentations offered valuable business and growth opportunities and were enthusiastically received by the members.
While speaking of the opportunity to present his company's services to ASIRT fellow members, Ajay Parekh, CEO, Shree Maat computers said, "ASIRT is doing crucial work for the SI and IT retail community and I am honoured to be a part of this association. As an entrepreneur, I chose to showcase my new products and services to this group as I feel it is an ideal platform that allows opportunity for transparent and collaborative business growth and I wish to explore these with my fellow ASIRT members."
Narendra Joshi, Dy. General Manager – Enterprise Business, Tata Teleservices said, "The telecom sector in India is estimated to be a 13,000 Cr market and is driven primarily by a service-oriented approach. The ASIRT is an ideal platform for us to explore probable franchise opportunities as most members here are SME's with an established network in areas where brand sales managers cannot reach. We are looking to foster long-term association with ASIRT and hope to cross a 150 Cr business target in the first year, with ASIRT members."
Mohan Bhat, Co-founder and MD of Propalms Technologies the parent company for ACCOPS VDI and remoter access technology provider, gave an insightful presentation addressing the changing role of SI's and IT retailers, pointing out how technological innovations are changing the traditions roles of SI's, making them solution providers.
When speaking about his association with ASIRT, he said, "ASIRT is a very good platform for showcasing our new products and solutions as the members are enthusiastic, have a very close eye on the new technologies and are eager to explore new growth opportunities. We aim to forge long terms partnerships with ASIRT and its members so as to offer best innovative solutions while expanding our reach."
After the insightful sponsor presentations, the Chairman, Jiten Mehta, convened a meeting of the Consortium leaders to discuss the progress of the Chairman's Club mentorship program. The consortium captains shared enthusiastic updates and compared notes with the other members on their learning.
Post the discussion, Jiten Mehta, Chairman, ASIRT said, "It is indeed heartwarming to see the effort and results of this mentorship initiative take shape so early on. I wish all the members great success and growth and as we enter into the new year, hoping for more prosperous times for all."
As the event came to close, the entertainments began, with soulful and peppy music by singer Raj Kapadia, who provide the perfect background score as members let their hair down and interacted with each other and the sponsor partners, sharing in the collective celebratory spirit!