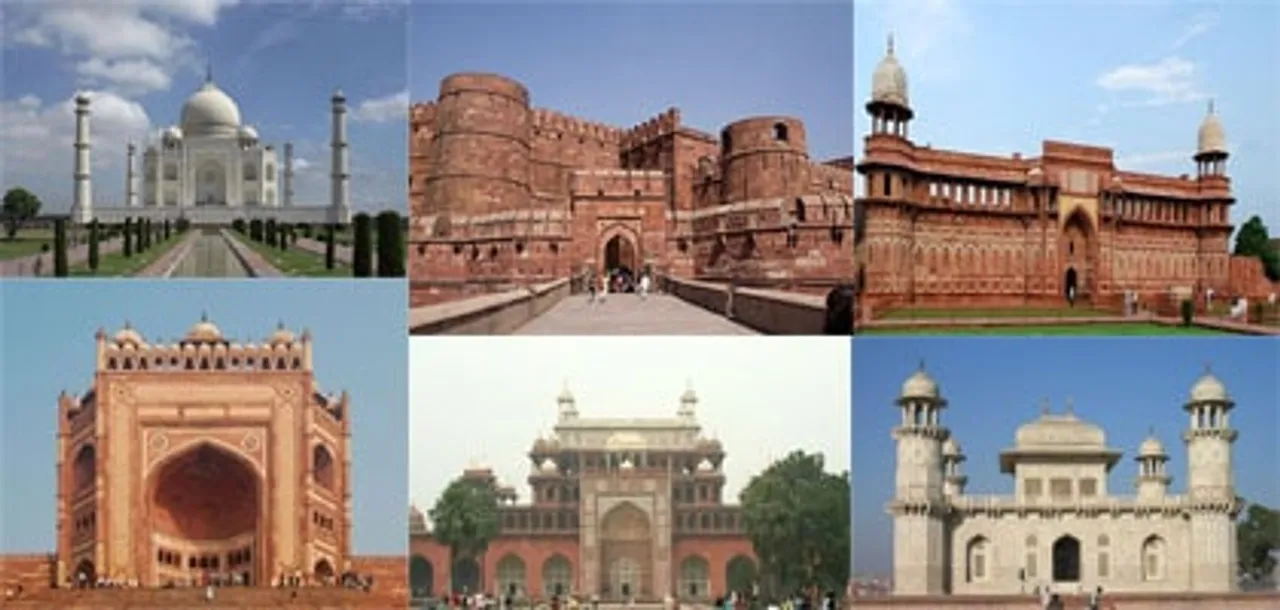 Agra is famous city having one of the Seven Wonders of the World, the Taj Mahal. The city has the architectural splendour of the mausoleums, the fort and the palaces of the legendary Mughal Empire.
It was the capital in the 16th and early 17th centuries.  It is a pleasant town known for its superb inlay work on marble and soapstone. It is also famous for its carpets, gold thread embroidery and leather shoes.
Hub of Tourist Attraction
Taj Mahal - The Taj Mahal is the most beautiful monument built entirely of white marble and has stunning architectural beauty which is beyond any description. It is believed to be built by a Muslim, Emperor Shah Jahan in the memory of his wife Mumtaz Mahal. There is also a dispute over the building as Tejo Mahalaya, a Shiva temple.
Agra Fort – The fort is built by the great Emperor Akbar in 1565 A.D. It is a masterpiece of design and construction. In the fort, there are buildings of Moti Masjid, Diwane-I-Aam, Diwani-I-Khas and musanman Burj, Khaas Mahal and Sheesh Mahal.
Itmad - Ud Daula - The Itmad -Ud -Daula built by the Empress Noor Jehan as a memorial to her father Mirza Ghiyas Beg. It is ornamented with pietra dura inlay and lattice work marble screens.
Chini Ka Roza - The tomb of Afzal Khan, the Persian poet and minister at Shah Jehan's court has brightly coloured glazed tiles.
Sikandara - It is the last resting place of the Mughal Emperor Akbar.
Fatehpur Sikri - It has gateways and light- hearted palaces built in red sandstone. Some of them are the Diwan-e-Khas, the panch mahal, the marble tomb of Salim Chisti, and the Buland Darwaza.
Commercial Significance
Due to the presence of the Taj Mahal and other historic monuments, it has a tourism industry as well royal crafts like Pietra Dura, marble inlay and carpets.
Today 40% of the population depends largely on agriculture, and others on the leather and footwear business and iron foundries. Agra is the second most self-employed in India in 2007, behind Varanasi, followed by Bhopal, Indore and Patna. According to the National Sample Survey Organization, in 1999–2000, 431 of every 1,000 employed males were self-employed in the city, which grew to 603 per 1,000 in 2004–05.<16> Tourism contributes to the economy of Agra. Agra is home to Asia's largest spa called Kaya Kalp – The Royal Spa, at the Hotel Mughal in Agra.<17>
Agra has many industries. Uttar Pradesh's first plant biotech company Harihar Biotech is located near the Taj. There are about 7,000 small scale industrial units. Agra city is also known for its leather goods, the oldest and famous leather firm Taj Leather World is in Sadar bazar . The carpets, handicrafts, zari and zardozi (embroidery work), marble and stone carving and inlay work. Agra is known for its sweets (Petha and Gajak) and snacks (Dalmoth), garment manufacturers and exporters and an automobile industry. Carpet making was introduced to the city by Moghul Emperor Babur and since then this art has flourished. The Shah Market area is an electronics market while Sanjay Place is the trade centre of Agra.
Growth of IT
However, most of the revenue of Agra comes from Tourism, leather and Handicrafts but now a days, IT industry has shown a significant growth in Agra in recent years. Agra is now center point and attraction of most of the IT investors because of recent development of infrastructure and improved transport. Agra has been gifted Noida- Agra Expressway and Agra - Lucknow Expressway via Kanpur, connecting the major cities which has been reduce the time of commute from National capital and big cities to Agra.  Agra is also one of the Smart City project run by Central Government of India which attracting major IT companies and investors to look forward and aiming to boost IT industry. Uttar Pradesh Government has also been interesting to set IT park in Agra. IT Park project is a proposed programme of UP Govt. which has been seen the remarkable growth towards IT market.  Also, entry tax for e-commerce companies has taken the smile on partner faces. Jitesh Agarwal, Owner, Agarwal Technologies said, "We are so happy that government has taken the imitative for the betterment of the IT community. Now 5%entry tax has to pay by the e-commerce companies which maintain the margins we can able to sustain our business in this competition. This will surely boom the IT market in Agra".
Agra At a Glance
No. of resellers- Nearly 200
Key Verticals- Tourism, Handicrafts, Leather goods
Prominent Brands- HP, Dell, Lenovo, Asus, Acer, Apple
Prominent IT Association- Agra Computers Association, Sanjay Place Computers Association
Interviews
Mukesh Singh, Perfect Software Solution, President Agra Computers Association
How will you analyze the growth of IT industry in Agra?
The IT Industry has been witnessed de-growth year and year. But in Agra, IT market has always been constant due to the mindsets of people in Agra. People, likely to go showrooms and different counters to take touch and feel of the product. Customers believe buying from the counters and that is something positive for IT people in Agra. Laptop and desktop business has picked up in recent years and it is doing well in Agra.
How is the growth in the laptop and Desktop business?
Laptop and Desktop business has not seen de-growth despite of challenge. There is always a demand of laptop and desktop and there is a major reason like UP Govt. Free Laptop for Students Scheme. Partners are getting business from it. Major brands for these products in Agra are HP and Dell.
Mukesh Agarwal, Owner, BM Computers and Secretary, Agra Computer Association.
What are the challenges faced by the resellers in Agra?
Open market pricing is the major issue which is facing by resellers in Agra. Many Vendors companies quickly start billing to many resellers at same market which has set the tough competition to maintain margins. Also, vendors don't take back the stock which causes blockage of money.