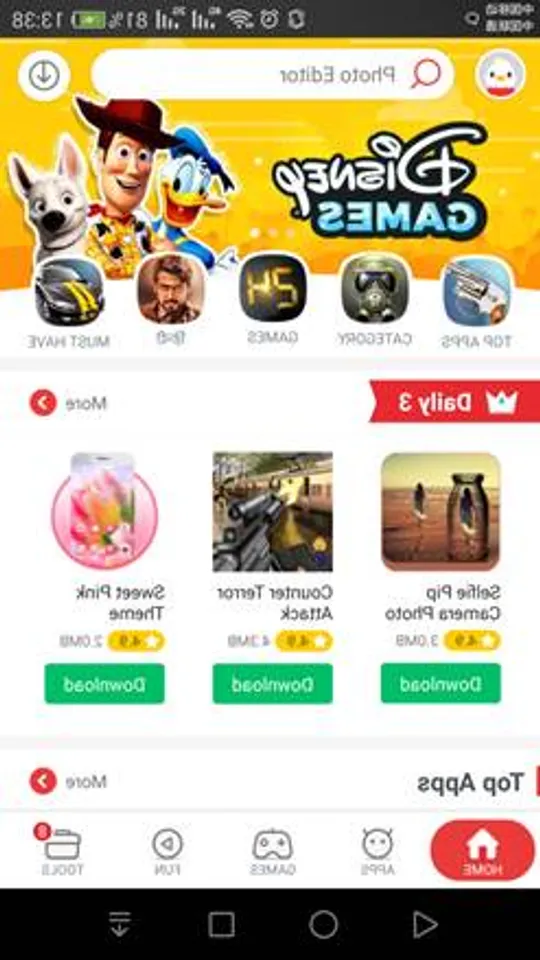 9Apps, part of Alibaba Group, has recently tied up with Disney India's Interactive business to host and promote over 300 popular mobile games from its gaming catalogue. As India's most popular third-party Android app market, 9Apps will now showcase games that include Inside Out Thought Bubbles, Mickey Cup, Minnie Cake Factory, Toy Story: Smash It!, Where's My Water?, Lion King, Cricket World Cup Fever, ABCD2, Arjun: The Prince of Bali and many more.
Announcing the association, Ebrahim Popat, Country Manager, 9Apps said, "With over 250 million   monthly active users around the world and a strong presence in India, our association with Disney India's Interactive business aims to target the local market and add value to our loyal and vast user base in the country. We are glad to see more top players like Disney India choosing 9Apps as a medium to popularise their games. This is a positive indication that our capacity in providing customised promotion service has been recognised by both – key players and the industry."
It is the first time Disney has partnered with a third-party app market in India to promote some of its most popular games world-wide.
"Technology plays a key role in furthering the reach of our beloved content amongst consumers on a platform of their choice. We have a great selection of gaming content based on our beloved characters and rich franchises, and with its growing popularity in India, 9Apps is definitely an association of choice to promote our rich catalogue of games and widen our consumer touch-points," said Sameer Ganapathy, VP & Head, Interactive - Disney India.
The collaboration falls under 9Apps' Top Developer Program, an initiative under which 9Apps aims to foster an ecosystem for digital content developers to reach out to their target audience. Last quarter, 9Apps also launched a $20million InDev Program to help Indian independent and startup developers with specially designed solutions, especially in user acquisition and monetisation.
9Apps is one of the most popular Android app marketplaces with more than 250 million monthly active users who generate over 800 million app distributions every month and 26 million app downloads every single day.