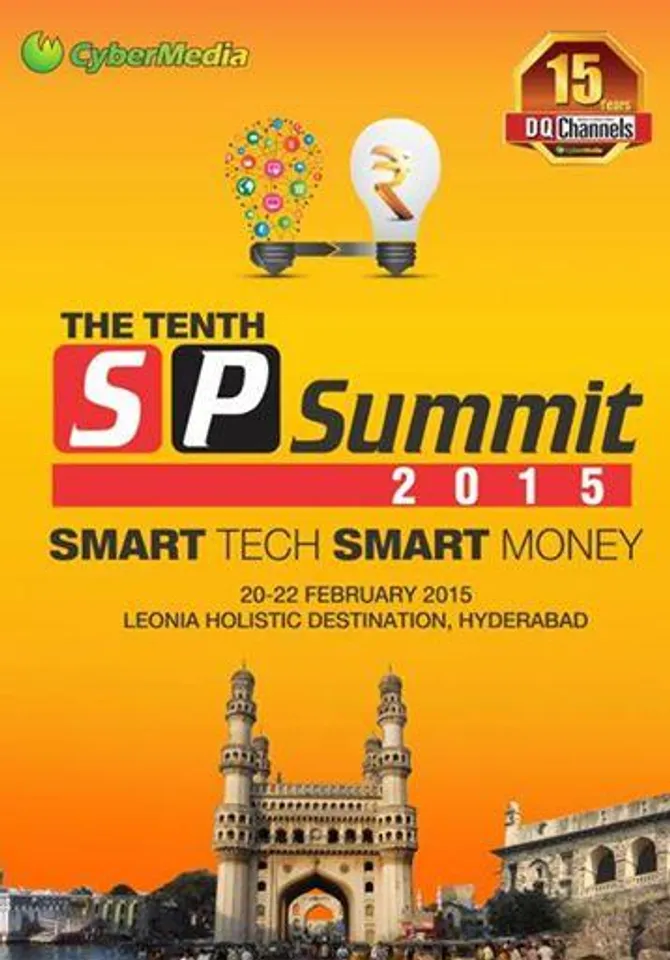 DQ Channels' flagship channel event has reached its 10th edition and took place at the city of pearls 'Hyderabad'.
DQ Channels successfully concluded the event in Hyderabad which took place in the city Nizami on 20, 21 and 22 Feb, 2015.
Hyderabad offers a variety of tourist attractions ranging from heritage monuments, lakes,  parks, gardens and resorts, museums to delectable cuisine and a delightful shopping experience.
SP Summit is a remarkable platform where India's leading Solution Providers, System Integrators, Network Integrators, Application Providers and Value Added Resellers stand together to discuss the new strategies and technologies for growth and future of IT.
In the 10th season of the conference, the Summit was based on 'Smart Technologies—using tomorrow's smart technologies to make smart money today'. This three-day event offered partners a wide scope of networking among the key industry personnel besides regular sessions to enhance knowledge base and open new business avenues.
This SP summit majorly focused on latest technologies like cloud services and virtualization, managed security services, enterprise mobility, managed print services, power solutions.
The event also focused on tomorrow's technologies like Internet of Things, Software defined Resources, Big Data & Analytics.
The event started with powerful presentations from Canon, Ricoh India, Nxtra Data, Zyxel and HP. During the presentation from Canon, P B Ganesh, senior manager, Laser Marketing Head, Canon India announced that they are going to launch partner programs soon.
SP summit came up with new interesting discussions like 'Make in india' campaign on which Limesh Parekh of Enjay Computers said, "Make in India' campaign is a great opportunity for SMBs."
Nitin Kunkolienker, Nationa VP, MAIT and VP of Smartlink Network said, "Digital India is a revolution and a demand needs to be created for businesses to pep up.
A smart panel discussion on cloud and how it could be a great business booster brought out quite an interactive session in the enriching evening on the 2nd day of SP Summit 2015.
In the session for 'Mobile–The New Perspective & Vision of Digital India' Sunny Sharma, CEO, Foetron talked about their interesting apps specially the 'Haryana traffic Police app' where citizens can freely interact and lodge complaints.
Durga Prasad of HP threw light on data explosion and data protection.
During the session 'Cloud Services and Virtualization (Taking a Smart Cloud Walk), Chetan Shah, MD, Xpress Computers commented, "Cloud doesn't bother me. This was five years back and now I have jumped onto the cloud bandwagon. Business needs to be aligned with the changing scenario.
On the 3rd day of the event (award evening) DQ Channels honored the leading System Integrators and Solution Champs.
All channel partners and DQ Channels Team gathered proudly and made this event a huge success.