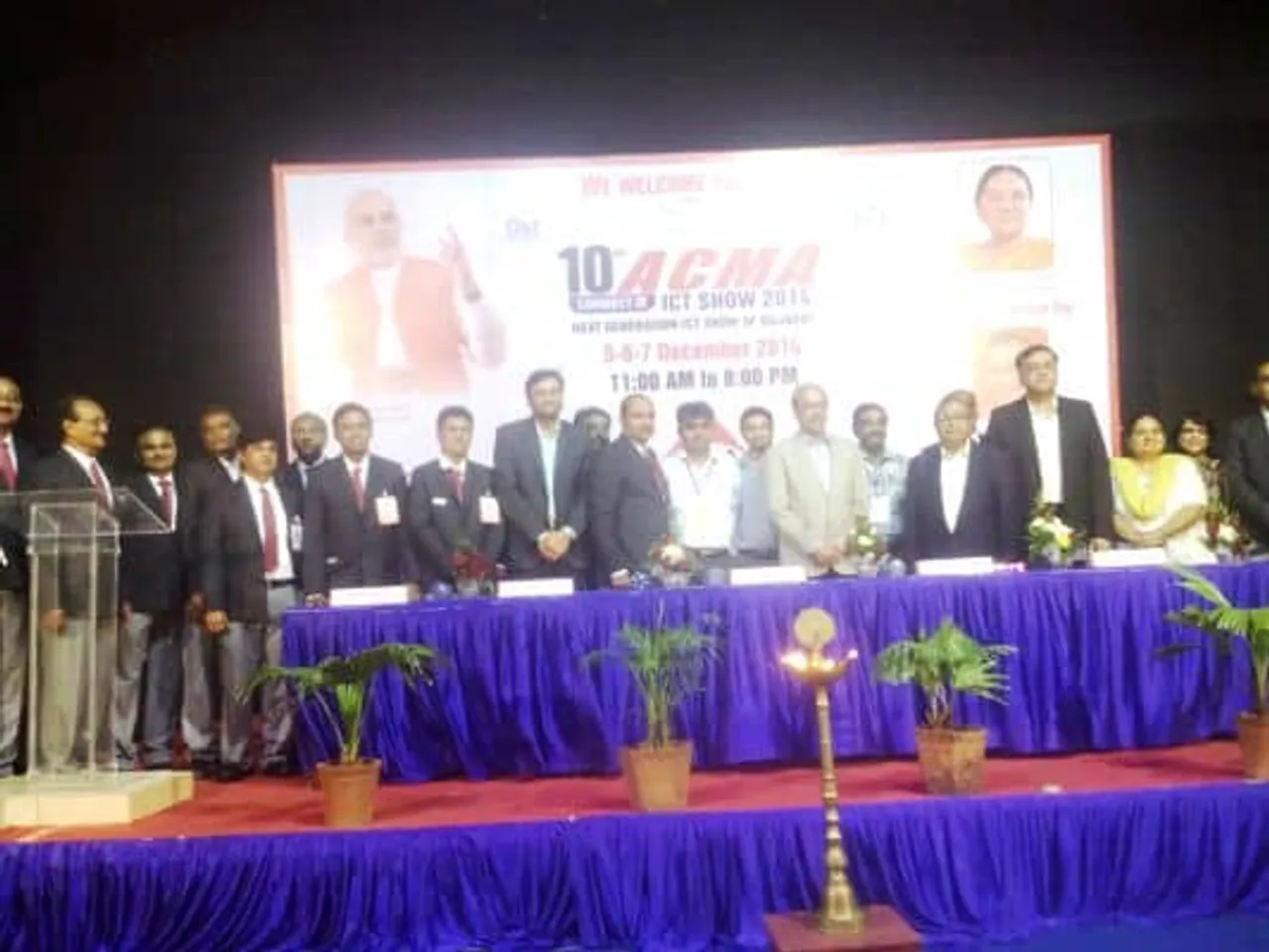 The first day of ACMA ICT SHOW 2014 marked good response from visitors
Ahmadabad Computer Merchants Association (ACMA), one of the prominent IT associations in Gujarat kicked off its 10th "ACMA ICT SHOW 2014" on Friday at Sabarmati Riverfront, Ahmadabad. The event was inaugurated by Mr. Govind Patel, Minister of Science and Technology, Government of Gujarat. Mr. S J Haider, IAS, Secretary, Science and Technology department, Mr. Pramod Kumar, Additional DGP, CID, Gujarat Police and Mr. Ketan Patel, Director, Consumer Products, HP India were present in the event.
Addressing the audience, Mr. Govind Patel said the state government is working towards bringing PM Narendra Modi's "Digital India" and "Make in India" vision into reality.
"We are fully committed for IT Infrastructure development in the state", he said.
Mr. Patel said that Gujarat is the first choice of investors and industrialists because of its highly developed infrastructure and pro business policies. He also congratulated ACMA for bringing vendors and partners under a one roof providing them a networking platform though ACMA ICT Show.
Mr. S J Haider IAS, Secretary Science and Technology department said that Gujarat is at the forefront in initiating pro IT and E Governance policies. He said that Gujarat will be taking a giant strike in IT and Electronics industry in the next couple of years.
Mr. Pramod Kumar, Additional DGP, CID, Gujarat Police said that with the development of IT, the rate of cyber crimes is also increasing in the state. Therefore, there is need to create awareness about cyber security among citizens.
Kishor Nagecha, president of ACMA said that there is overwhelming response for 10th ACMA ICT show from vendors and tech lovers. He said that it was the first technology event organized at Sabarmati River Front and around 200 exhibitors have showcased their products in the event.
Mr. Nagecha said that it was a first time when some of the members occupied the entire Dom and accommodated their vendors in the show.
"It is a proud moment for us that our three members: Silverline Infocom, Aegis and Earth Syscom have taken an entire Dom and accommodated 12 to 15 vendors they are dealing with."
Mr. Nagecha said that this time ACMA tied up with CID Gujarat and created a separate Cyber Crimes Awareness Dom. Gujarat Police also launched "Swaraksha" mobile app in the event. The mobile app specially meant for girls, kids and senior citizens has been developed by Devlon Infotech Pvt Ltd. This app is very helpful for girls and working women who require travelling alone late nights. With the help of this app, one can track location of a person through GPS, Cell Id or IMEI Number.
Mr. Nagecha said that the entire project was successfully completed within 90 days and they are getting tremendous response from people.  He said that more than 45000 visitors are expected to visit the 3 day event.